Image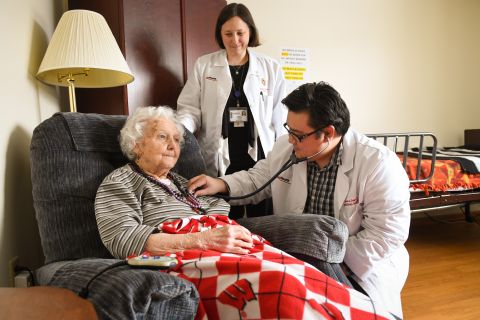 Patient, Caregiver and Community Inclusion
Dr. Dattalo's scholarly work focus on improving health systems for medically and socially complex patients by translating evidence-based models of care into practice. She has studied models of care for chronic illness through her MPH coursework and gained training in implementation science through a Certificate in Clinical and Community Outcomes Research. Dr. Dattalo has expertise in qualitative and interview-based research methods that incorporates the voices of patients, caregivers, and community leaders into health services research.
As a result of her work, Dr. Dattalo was selected for UW Health's 2019 Physician Excellence Rising Star in Leadership award for her collaborative efforts to develop this new inter-departmental clinical program. Dr. Dattalo also serves on the Education Committee and the Policy Committee for the American Academy of Home Care Medicine.
Dr. Dattalo leads UW Health's new Home-Based Primary Care Service. This innovative clinical service is being evaluated for its impact on patient outcomes in partnership with the Office of Population Health and the Health Innovations Program.  Watch a video of Dr. Dattalo give a presentation about home-based primary care.