Where to Live
Image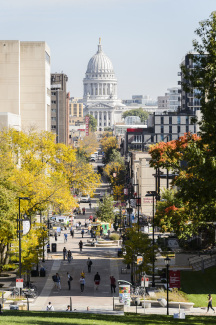 Madison is built on an isthmus that runs diagonally, southwest to northeast, between Lake Mendota to the north and Lake Monona to the south. In the center of the isthmus is the Wisconsin State Capitol building. Madison can be roughly delineated into east and west sides from there.
Residents and fellows typically choose to live in communities on the west side, nearer to the University of Wisconsin (UW) campus and the University Hospital; this includes the suburbs of Middleton, Verona and Fitchburg.
Whichever direction you go, you'll find housing options to fit every budget and family size. The UW Health House Staff Association offers resources to start your search.
Commuting
With a robust metro bus system that's free for trainees and legendary bikeability, it's possible to live here without ever owning a car.
When you need one, however, Madison—as an economically vibrant state capital and the home of a Big Ten campus—has all the opportunity and convenience of a large city without the sprawl. The average commute to campus by car for residents and fellows is about 20 minutes.
Start getting oriented by using the campus map.
If you are in need of accessibility and disability resources, the UW maintains a centralized website for all campus constituents.
Explore Madison
See the city in all four seasons