Welcome to the University of Wisconsin Department of Medicine! I'm so excited to share why our department is such an amazing place to learn, teach, discover and work.
Image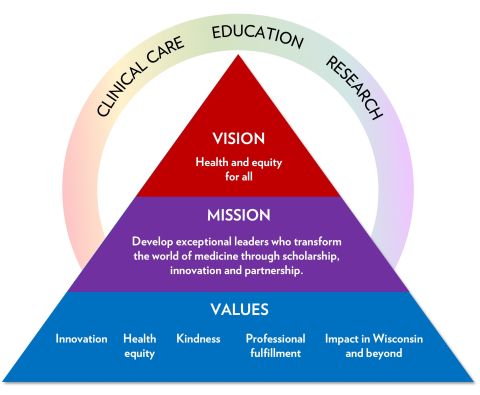 It starts with our core values:
Innovation
Health equity
Kindness
Professional fulfillment
Impact in Wisconsin and beyond
These values are the compass guiding everything we do. They resonate in our hearts and propel us forward to fulfill our mission: to develop exceptional leaders who transform the world of medicine through scholarship, innovation and partnership.
And that's how we move ever closer to achieving our vision: health and equity for all.
Here's what it looks like in action:
Individualized training programs that integrate rigorous clinical education, the scholarly opportunities of a top-ten research institution and genuine mentorship by supportive faculty. 
Transformative research on health disparities, aging and Alzheimer's disease, tobacco use disorders and other critical health issues that's improving the lives of people in Wisconsin and the nation.
Top-ranked clinical programs that raise the standard of care in our communities and across our specialty.
A place where people strive for equity and justice, act with compassion, and intentionally create an inclusive and safe environment where everyone can thrive. 
As chair, my job is to inspire and empower leaders who will challenge the status quo, make new discoveries, and find better ways to work, teach and care for patients.
I'm thrilled to do that on a world-class campus in a wonderful and exceptionally livable city, in a department where excellence and equity march forward together, and with people who are committed to the journey. 
Join us, and let's transform the world of medicine together.

On Wisconsin!
Lynn M. Schnapp, MD, ATSF
George R. and Elaine Love Professor
Chair, Department of Medicine
Division of Allergy, Pulmonary and Critical Care Medicine