The Physician-Scientist Training Program (PSTP) at the University of Wisconsin internal medicine residency program provides MD graduates with condensed clinical training in both internal medicine and the trainee's subspecialty of interest, followed by focused postdoctoral research training.
Our trainees build a unique research niche, excel in the competitive landscape of academic medicine and become the physician-scientist leaders of the future.
Program Details
Benefits

Trainees are guaranteed their fellowship of choice
PSTP trainees can pursue research in the Department of Medicine and across the world-class University of Wisconsin–Madison, which has one of the largest graduate schools in the U.S. We will help you make meaningful connections with collaborators across campus through courses and research enterprises. 
Research stipend of $2,000 (PG-1 through PG-3) and $5,000 (PG-4 through PG-6) for each year in the PSTP program, for a total of $21,000
Department of Medicine will fund attendance for one national meeting per year in trainees' area research interest, for years 3-6
Department of Medicine will also fund attendance and presentation at the annual ASCI/APSA/AAP meeting in Chicago, for years 1-6
Department of Medicine will coordinate grant submission and IRB applications for trainees

Clinical Training

The American Board of Internal Medicine (ABIM) Research Pathway condenses clinical training in internal medicine to two years, followed by subspecialty fellowship training during the PG-3 year.

PSTP residents follows the same 4+2+2 schedule as categorical residents. PSTP residents are placed in the same outpatient cohort, so they have elective and ambulatory time together.

Research Training

Trainees can complete research training under the mentorship of any faculty member at the University of Wisconsin-Madison. Presentations from distinguished faculty members occur during our monthly meetings and in scheduled interviews early during the clinical fellowship training. The program committee assists with final selection of a research advisor.

During research training, the program co-directors and program committee will review progress yearly to ensure progress toward career independence. Trainees have multiple NIH-sponsored training grants, core facilities and clinical trial/biospecimen science support teams to facilitate their research goals. To learn more about the research interests of Department of Medicine faculty, please visit individual faculty profiles or subspecialty division research pages.

Didactic Training and Mock Study Sections

Trainees meet monthly with the program co-directors in didactic seminars (e.g., Ethics in Biomedical Research) or faculty research presentations. Trainees can also pursue additional didactic training through the UW Institute for Clinical and Translational Research (ICTR), with the opportunity to complete formal certificate or degree programs in clinical research.

We offer formal grant writing seminars every year and strongly recommended these for each trainee.

The program co-directors also host a quarterly "mock study section" to introduce trainees to the grant review process and improve their submissions.

Program Committee

The PSTP Program Committee is composed of physician scientists across the Department of Medicine. It includes co-directors Dr. Vincent Cryns and Dr. Joshua Lang, along with internationally recognized researchers Dr. Dawn Davis, Dr. Amy Kind, and Dr. Nasia Safdar. The committee meets quarterly to review the curriculum, trainee needs and career enhancement opportunities.
Image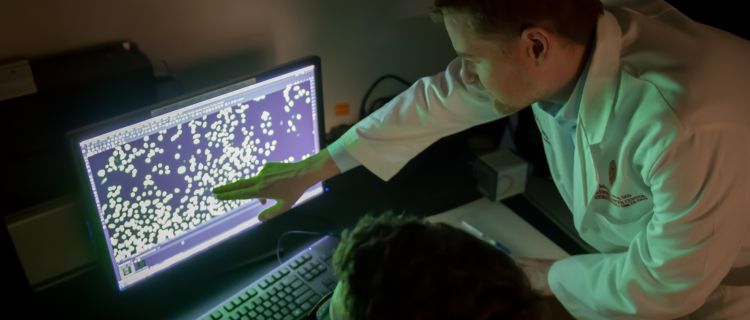 How to Apply
We accept applications to the PSTP program via ERAS only. There you can indicate interest in both our categorical program and our Physician-Scientist Training Program. Use the separate NRMP codes found on our How to Apply to the Internal Medicine Residency page.
PSTP candidates must be U.S. citizens or permanent residents. Unfortunately, we are not able to support visas for the PSTP, but we encourage you to apply to the categorical program.
If you are invited to interview, we will consider you for both the PSTP and categorical program. You will interview over the course of two days to facilitate meetings with residency leadership, fellowship leaders, researchers, and subspecialty clinicians.
For questions or more details, contact the program coordinator.
Assistant Program Director