Wellness is a part of every decision at the University of Wisconsin internal medicine residency program, from policies, rotation design, faculty development, curriculum, to how we build community and mentorship. We regularly assess wellness and use this information to engage in regular improvements, as well as individualized coaching and mentoring.
UW Health also recognizes wellness as a critical organizational competency, and participates in the Physician Wellness Academic Consortium. Mariah Quinn, MD, MPH, a former internal medicine residency associate program director and co-creator and leader of our program's Empathy Course, is UW Health's chief wellness officer.
Wellness in Our Program
Wellness Curriculum

Empathy Course

Our Empathy Course emphasizes reflection, play, and reconnection with your own humanity, and connection with your colleagues. It uses multiple humanities-informed and neuroscience-based techniques to help augment your resilience and improve your communication and relationship skills. 

Course activities have included activities at Allen Centennial Gardens, an improv session, and a meeting at the Chazen Museum.

Positively-Focused Conference Series

This series, held as part of our Morning Report, allows all internal medicine residents to reflect and discuss why we do what we do as physicians. We focus on positive patient interactions that have brought us joy and meaning in our work.

Reflections on Successes
Reflections on Resilience
Reflections on Meaning

Wellness Committee

Our active, resident-run Wellness Committee aims to bring awareness to the importance of resident physician well-being, and support resident efforts to be healthy, build resilience, and find meaning and joy in our work.

We achieve this by publishing wellness newsletters, holding resident social events to build connection and community, hosting Positively Focused conferences, and disseminating resources and training on stress management, burnout and resiliency.
Image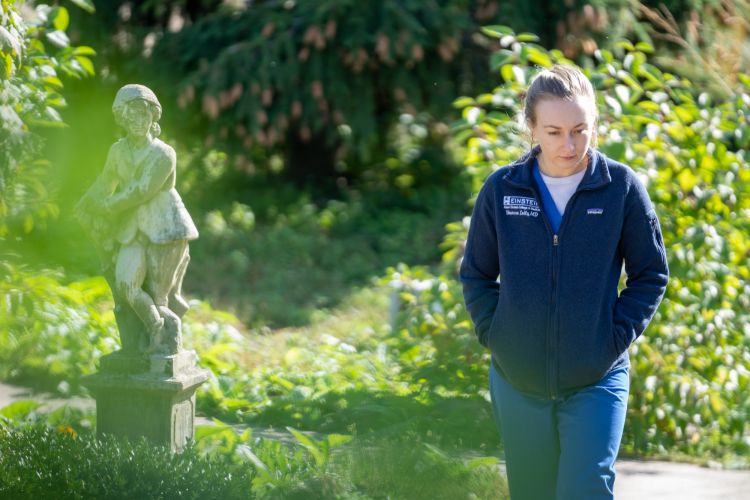 Above, an internal medicine resident participates in a wellness activity at Allen Centennial Gardens.
Wellness Newsletters
Our monthly newsletter, Wellness Today, shares events, resources, and resident achievements with residents and attendings.
Wellness Today: 2023

Wellness Today: 2022

Wellness Today: 2021

Wellness Today: 2020