Image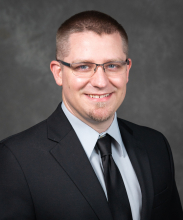 Tobey Betthauser, PhD: The Time Course of Alzheimer's Disease and Related Disorders
Tobey Betthauser, PhD, is a researcher investigating the sequence of events that occur in neurodegenerative disease and understanding the earliest biomarker-detectable signs of disease.
His lab develops and applies novel biomarker modeling methods to investigate this temporal sequence and anchors results to clinical trajectories and postmortem confirmation of brain pathology.
Biomarkers for Alzheimer's Disease Detection and Progression
Dr. Betthauser's current work includes developing and evaluating novel approaches to characterizing the time course of amyloid accumulation and other pathophysiologic processes in Alzheimer's disease using biomarkers. His team also investigates the sensitivity and specificity of in vivo biomarkers for their molecular targets with postmortem confirmation of pathologic entities.
This combined research is designed to better the understanding of the clinical and research utility and limitations of fluid and imaging biomarkers to detect pathophysiologic processes during life, and to better understand how these pathologic processes influence symptoms of disease.