Director's Welcome
Welcome to the UWCVD Fellowship Program website! Please take the time to explore our pages and learn about our program. If you have questions, do not hesitate to contact us!
Interested APPLICANTS are encouraged to contact program coordinators as primary contact.
---
Program Contact Information
Theresa Teske
Program Coordinator
tlteske@medicine.wisc.edu
Mission Statement
With a focus on education, research and scholarship, The University of Wisconsin Cardiovascular Disease fellowship will train the next generation of physicians to deliver the highest quality, patient-centered cardiovascular care to the people of Wisconsin and beyond.
The Cardiovascular Disease (CVD) Fellowship Program at the University of Wisconsin Hospital and Clinics (UWHC) is a comprehensive program offering state-of-the-art training. The CVD fellowship program is a fully funded, three-year training program for candidates who have completed an accredited medicine residency. Our program is fully accredited by the Accreditation Council for Graduate Medical Education (ACGME). We accept five new fellows into our program annually.
In our program, the trainees will find themselves at the center of the action. Our fellows are seen as junior colleagues from the beginning of their training and receive advanced education in all areas of Cardiovascular Medicine, including Interventional Cardiology, Electrophysiology, Advanced Heart Failure and Transplant Cardiology, Preventive Cardiology, Adult Congenital Heart Disease, and multi-modality imaging subspecialties such as Echocardiography, Nuclear, CT and MR imaging.
The program also encourages scholarly activity, as nearly one-quarter of the three years is devoted to a research rotation.
Trainees will rotate through the UW Hospital and Clinics, satellite clinics, as well as the attached William S. Middleton Memorial Veterans Hospital.
Program Showcase
Comprehensive, learner-centered education
Education stipend to attend regional and national conferences
Dedicated monthly fellows meeting with program leadership
Weekly and monthly education conferences
Department of Medicine Global Health Pathway with opportunities to engage in global health didactics, research, and a clinical elective
Access to the UW Health Clinical Simulation Program to use the simulation tool, AngioMentor, for asynchronous simulation learning opportunities on specialty-specific case modules
Support for fellows and faculty in addressing wellness and achieving life-balance
On-site VAH hospital attached to main UW Hospital
Opportunity for COCATS Level II and III for Echocardiography and Nuclear, as well as EP and Multi-modality Imaging
100% CVD board pass rate for the past 7 years!
Research
The Division of Cardiovascular Medicine is proud to have a long-standing, well-funded, robust research enterprise encompassing all forms of research from bench and clinical research to translational. The major themes of CVM research topics include heart failure and ventricular function, electrophysiology and arrhythmias, and vascular biology, including prevention and imaging.
Select trainees may also have an opportunity to progress their research interests and experience by adding on a T32 post-grad research year to their fellowship when funding allows.
Please visit our CVM Division Research page and our Fellowship Research Opportunities page for more information.
Program History
Our Cardiovascular Disease Fellowship Program has maintained continuous accreditation since we achieved initial accreditation by the ACGME on July 1, 1987. We have had over 110 trainees successfully complete our program, many of which have gone on to sub-subspecialty training, and have established careers in both academic and private practice settings.
Image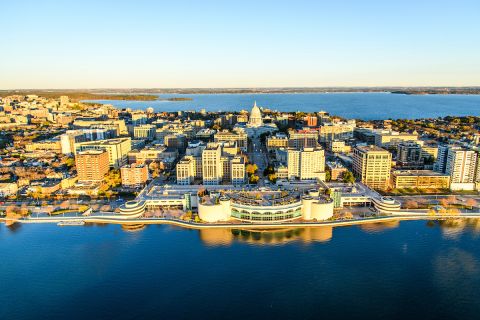 Living in Madison, Wisconsin
Madison is the Wisconsin state capital, and second-largest city in Wisconsin with a population of more than 250,000 people. With the dynamism of a large city and the friendliness and accessibility of a small town, Madison provides an ideal place for anyone to live. Madison offers a large array of activities including hiking and biking, shops and art galleries, cafes and restaurants, theaters and museums, rowing and kayaking, year-round farmers markets, and so much more. Uniquely, a very large portion of the downtown sits on an isthmus between Lake Mendota and Lake Monona, which are only two of five lakes nearby.
For more information, please visit: The Greater Madison Chamber of Commerce, City of Madison, or Visit Madison.