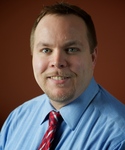 Dr. Ehlenbach's research program aims to improve understanding of long-term outcomes among survivors of critical illness, particularly cognitive and other functional outcomes among older persons. His clinical and health services research program seeks to identify specific aspects of critical illness and the therapies used to treat them that may be associated with chronic cognitive impairment. Additional research interests include in-hospital cardiac arrest among older patients and the delivery of palliative care in the intensive care unit.
Dr. Ehlenbach has created a clinical and health services research program focusing on long-term outcomes after critical illness in adults, with particular attention to cognitive outcome and other functional outcomes. His work seeks to improve knowledge about risk factors for cognitive decline after critical illness, not only to allow future interventional studies to focus on high-risk patients but also to allow improved education of patients and their families as they make difficult decisions about the use of life-sustaining therapies.
His research is currently funded by the National Institute on Aging (NIH), the John A. Hartford Foundation, the American Federation for Aging Research, the Atlantic Philanthropies, and the Starr Foundation through the Paul B. Beeson Career Development Awards in Aging Research Program.
---
Contact Information
William Ehlenbach, MD
Phone: 608-262-0802 (office)
Fax: 608-263-3104
Email: wjehlen@medicine.wisc.edu