Sameer Mathur, MD, PhD | Eosinophil Biology 
Sameer Mathur, MD, PhD, is a physician-scientist and a practicing allergist-immunologist. His research investigates how eosinophils contribute to disease activity in the context of asthma and eosinophilic esophagitis.
Image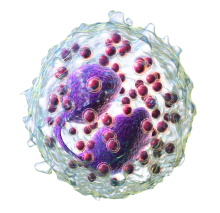 The Role of Eosinophils in Airway Inflammation
Dr. Mathur's research focuses on the role of eosinophils in airway inflammation and inflammatory mechanisms and biomarkers in eosinophilic esophagitis. He also leads clinic-based projects to improve the care for patients with mast cell disorders, including urticarial, angioedema, and mast cell activation syndrome.
Eosinophil illustration: Blausen Medical, CC BY-SA 4.0, via Wikimedia Commons
Active Projects
Eosinophilic Esophagitis  

Our previous work has identified an eosinophil surface marker, CD41, that correlates with changes in esophageal eosinophil counts. We are proceeding with clinical trials to examine its utility as a biomarker for EOE disease activity.

In addition, we have preliminary data recognizing that esophageal epithelium can be infected by respiratory viruses, which suggests that viral infections may contribute to the esophageal inflammatory process. 

Role of Eosinophils in Asthma 

Our group has collaborated with investigators in our division to examine the functional role of eosinophils in asthma.

Electronic Medical Record Analyses of Allergic Diseases 

Our group has worked with residents to explore clinical questions on chronic urticaria, mast cell activation syndrome, and severe asthma. We have used the electronic medical record to generate data to address these questions.
Positions Available
If you are interested in joining our research group, please send a CV and brief description of your research experience and interests to Dr. Mathur at skmathur@wisc.edu. 
Funding Support
Dr. Mathur's research is funded by the National Institutes of Health and the Department of Medicine Research Committee.