The University of Wisconsin Infectious Disease fellowship program cultivates academic infectious disease physicians of the future in an environment that celebrates continuous innovation, collaboration and diverse perspectives.
You'll develop diagnostic and management skills as a consultant; gain leadership skills in public, global health, and medical education; conduct ethical clinical research and investigate disease pathogenesis, and actively engage in drug discovery to advance care for patients with infectious diseases.
Train with us and learn cutting-edge science that prioritizes social responsibility and equity—with the goal of improving human health.
Image


"The training in antimicrobial stewardship I received at UW was second to none. They have a highly integrated, well-established program, including dedicated ID clinicians and ID pharmacists. Fellows are included in daily stewardship decisions with ample opportunity for research."
—Buck Scholtz, DO, fellowship alumnus
Image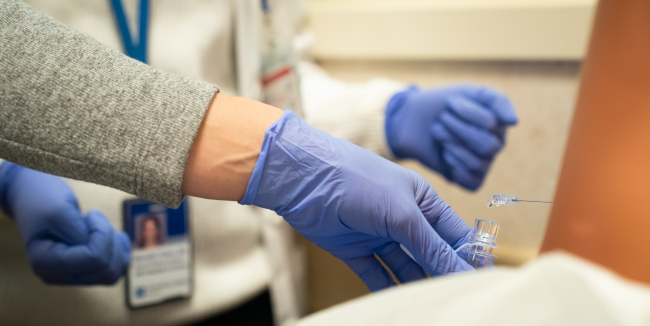 Why You'll Love Our Program
A Center of Excellence for infection control and antimicrobial stewardship, co-located training at a top-rated VA Hospital, and a wealth o opportunities in private practice, public health and skilled nursing facilities
Distinct training pathways to develop an individualized training experience and graduate with a distinction in a specific infectious disease area of interest
Unparalleled research opportunities through resources at our university, clinic centers, and international research networks
Individualized mentoring from division faculty and collaborators at a top 10 public research institution
"The research training and mentorship I have received as an infectious disease fellow at UW-Madison has supported me in each step toward becoming a physician researcher....The environment has been both rigorous and supportive, and I am excited to continue my research with the support of the T32 training grant."
—Lindsay Taylor MD, MS, fellowship alumna
Meet Our Program Director
"I am privileged to lead an outstanding group of fellows dedicated to advancing equity through providing high-quality, patient-centered care. I look forward to sharing with you how our program can help you achieve your career goals."