As a core component of fellowship training at UW-Madison, fellows spend roughly half of their time participating in research and pathway development. Depending on their interest, this can be clinical, basic science, or translational research; as such, fellows may develop independent research projects and/or participate in existing projects of ID Division members or of any other investigators on campus. Fellows have worked in research laboratories in the Departments of Biochemistry, Microbiology and Immunology, Pharmacology, Bacteriology, Public Health, and in the State Division of Health.
Image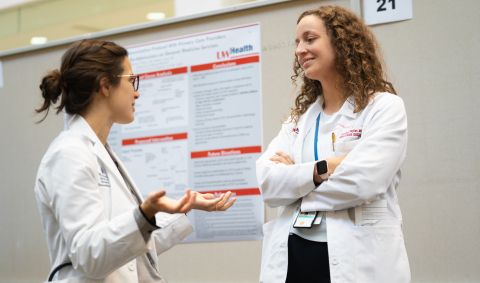 All fellows have the opportunity to attend and present at several annual infectious disease conferences hosted by ASM, IDSA, SHEA, and others. Fellows also participate in the annual Department of Medicine Research Day and the UW Health Quality Improvement Symposium. Over the years, our fellows have co-authored more than 50 research publications and have been invited to submit monographs, chapters and/or abstracts at peer-reviewed national and international scientific meetings.
By graduation, most fellows have co-authored 3-5 papers and numerous have won prestigious national research awards including the Pearl M. Stetler Award, SHEA Outstanding Trainee Awards, NIH Mentored Clinical Scientist Development Award, Fellow of the American College of Physicians, and NIH Loan Repayment Awards, among many others. Fellows displaying an aptitude for research may be offered an additional training year dedicated to full-time investigation.
Since 1980 87% of our fellows entered academic careers upon completion of their fellowship and five are considered international authorities in a major area of infectious disease or microbiologic research.
INFECTIOUS DISEASE DIVISION RESEARCH OPPORTUNITIES
Image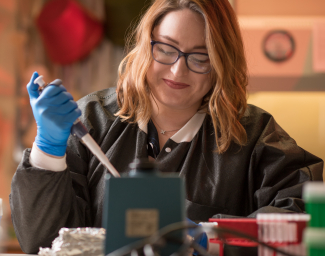 COVID, antimicrobial drug resistance, antimicrobial stewardship, antimicrobial drug discovery, antimicrobial pharmacokinetics and pharmacodynamics, infection control and prevention, C difficile, fungal infections, transplant infectious diseases, HIV, HCV, infectious disease and social justice, global health, microbiome, virology, diabetic foot infections, biofilm infections, and immunology.
Recent Learner Publications
Berman L, Kavalier M (fellow), Gelana B, Tesfaw G, Siraj D, Shirley D, et al. (2021) Utilizing the SEIPS model to guide hand hygiene interventions at a tertiary hospital in Ethiopia. PLoS ONE 16(10): e0258662. 
Kessler MA (fellow), Joachim EL, Narayanan D, Medani S, Urban AW, Parajuli S. On the tip of my tongue: A 76-year-old female kidney transplant patient with tongue ulcer. Transpl Infect Dis. 2020 Jun 25:e13389. doi: 10.1111/tid.13389.
Jasper AS, Musuuza JS, Tischendorf JS (fellow), Stevens VW, Gamage SD, Osman F, Safdar N.  Are Fluoroquinolones or Macrolides Better for Treating Legionella Pneumonia? A Systematic Review and Meta-analysis. Clin Infect Dis. 2020 Apr 16:ciaa441. doi: 10.1093/cid/ciaa441. Online ahead of print.PMID: 32296816
Pop-Vicas A, Stern R (resident), Osman F, Safdar N.  Variability in infection surveillance methods and impact on surgical site infection rates. Am J Infect Control. 2020 Jul 2:S0196-6553(20)30635-0. doi: 10.1016/j.ajic.2020.06.211. Online ahead of print.PMID: 32622837
More Learner Publications
Additional Research Opportunities
Coursework focusing on both laboratory and non-laboratory-based research
Biomedical Statistics
Fundamentals of Clinical Trials
Ethics
Study design
Grant and manuscript writing