Image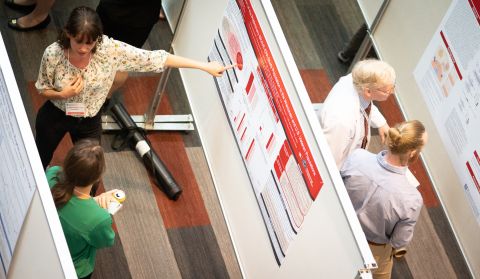 Research Day highlights the full scope of innovative research in the Department of Medicine and facilitates collaborative interactions within our educational, research and clinical community. This exciting event features a prominent, external Grand Rounds speaker as well as a distinguished internal Keynote speaker. 
Participation by junior faculty is emphasized, but all investigators and trainees in the department are encouraged to submit research abstracts. Approximately 10 submitters will be selected to join the slated speakers and provide oral presentations.
Most researchers who submit research abstracts will have the opportunity to present posters during the catered lunch period, a time providing a relaxed setting for camaraderie and exchanging ideas among colleagues. This inspiring and thought-provoking day concludes with recognizing poster session winners and honoring faculty with research awards.
Mark your calendar to join this celebration of the Department of Medicine's outstanding and nationally recognized research program!
Research Day 2022 Details
Friday, October 28, 2022
HSLC Room 1306, poster presentations in HSLC Atrium
Research Day Grand Rounds Speaker
Image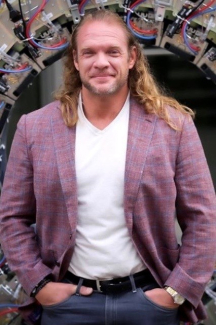 Sid O'Bryant, PhD
Executive Director, Institute for Translational Research
University of North Texas Health Science Center
As the population of those aged 65 and over continues to grow, so does the diversity of the U.S. population. In fact, by 2060 approximately 27.5% of the population will be Hispanic, 15% will be African American, and 44.3% will be non-Hispanic white. Dr. Sid O'Bryant is the principal investigator of the Health & Aging Brain Study – Health Disparities (HABS-HD), which is the most comprehensive study of Alzheimer's disease among the three largest racial/ethnic groups in the U.S. ever conducted – African Americans, Mexican Americans, non-Hispanic whites. The goal of the HABS-HD program is to understand the life course factors, including biological, sociocultural, environmental, and behavioral, that impact risk for Alzheimer's disease in late life. This work will ultimately lead to population-specific precision medicine approaches to treating and preventing Alzheimer's disease (i.e., "treating your Alzheimer's disease"). In addition to being a global leader in Mexican American cognitive aging, Dr. O'Bryant is a global expert in precision medicine approaches to novel diagnostic and therapeutic strategies for Alzheimer's disease, Parkinson's disease, Dementia with Lewy Bodies and Alzheimer's disease among adults with Down Syndrome.  
Research Day Keynote Speaker
Image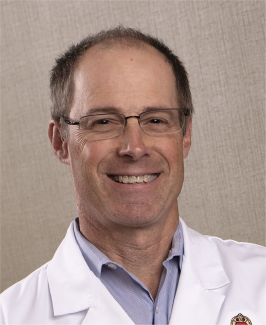 Jon S. Odorico, MD, FACS, FAST
Dr. Odorico is Director of the Pancreas and Islet Cell Transplantation Programs and Professor in the Department of Surgery, Division of Organ Transplantation at the University of Wisconsin-Madison School of Medicine and Public Health. He received his Chemistry BS from Duke University and M.D. from New York University. He completed General Surgery training as well as a post-doctoral research fellowship, at the University of Pennsylvania and an Organ Transplant Fellowship at the University of Wisconsin. The University of Wisconsin Pancreas Transplant Program consistently ranks among the highest volume programs in the world and has developed many field-leading innovations.  Dr. Odorico has an active, extramurally funded research laboratory that focuses on beta cell differentiation from pluripotent stem cells. He previously served as President of IPITA and Chair of the UNOS Pancreas Committee. He is also the scientific co-founder of Regenerative Medical Solutions, Inc.
Registration
Attendee registration will open and the call for abstracts will go out on Tuesday, July 12.
This year's Research Day is planned by event chair, Ozioma Okonkwo, PhD, the members of the Research Education Subcommittee, the Vice Chairs of Research, and the staff of the DOM's Office of Research Services.