COVID-19
Drs Safdar, Westergaard, Andes, Striker, and Shirley are undertaking epidemiology, diagnosis, transmission, and therapeutic COVID investigations.
Microbiome
Dr. Kalan and multiple colleagues in microbiology study the role of the microbiome in health and disease.  Several other members of the ID division (Safdar and Brennan) collaboration in clinical microbiome investigations.
Nosocomial Infections
Image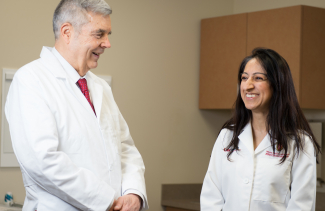 Emeritus Professor Dr. Dennis Maki is internationally regarded as one of the original architects of modern hospital epidemiology and infection control. He continues to develop novel surveillance and intervention strategies to combat hospital infections and resistance epidemics. Several members of the division utilize epidemiologic analysis tools to identify and address a variety of clinical infectious diseases. Dr. Nasia Safdar's program focuses on drug resistance epidemiology and infection in the acute care setting. Her group is regarded as a leader in use of meta-analysis techniques to address a broad spectrum of hospital infections including C. difficile and the emergence and therapy of drug resistant nosocomial infections.
Dr. Chris Crnich's group utilizes similar approaches to study healthcare-associated infections among vulnerable elderly patients with a specific focus on antibiotic-resistance in long-term care facilities.
Image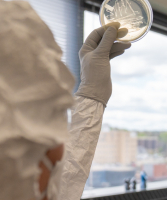 Dr. Aurora Pop-Vicas's research program focuses on the epidemiology and prevention of surgical site infections. Dr. Dan Shirley investigates the role of infection control interventions in resource limited settings including international sites such as Ethiopia and local efforts in the homeless population.  In addition, he leads our pandemic infection prevention group.
Dr. Meghan Brennan is focusing on the epidemiologic link between non-infectious disease comorbidities and risk and outcome of a variety of infections.  Her current program is specifically exploring prediction and prevention of infection in patients with diabetes.
HIV
Dr. Ryan Westergaard's research projects involve interventions to improve quality and continuity of care for HIV-infected patients, with special emphasis on people with psychiatric illness, people who use drugs and prisoners. Dr. Jim Sosman leads a clinical service grant the goal of which is to identify interventions to optimize care for patients with HIV.
Transplant Infectious Diseases
Drs. Jeaninna Smith, Saddler, Misch, Andes, and Safdar collaborate with the UW Transplant Surgery and other large transplant centers to better understand the epidemiology and modifiable risk factors for infection in these immunocompromised hosts.
Global Health and Emerging Infectious Diseases
Image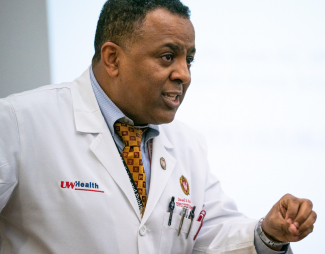 Dr. Dawd Siraj is director of our global health program and leads a variety of research projects in Ethiopia.  Dr. Jim Conway is actively involved in a variety of projects helping maintain immunization coverage for the prevention of vaccine-preventable disease in children in the U.S. and abroad.