Director's Welcome
Welcome to the UW AHFTx Fellowship Program website! Please take the time to explore our pages and learn about our program. If you have questions, do not hesitate to contact us! Interested APPLICANTS are encouraged to contact program coordinators as primary contact.
---
Program Contact Information
David Murray, MD
Program Director
Theresa Teske, C-TAGME
Program Coordinator
tlteske@medicine.wisc.edu
Mission Statement
With a focus on education, research and scholarship, The University of Wisconsin Advanced Heart Failure and Transplant Cardiology fellowship program will train the next generation of physicians to deliver the highest quality, patient-centered and state-of-the-art heart failure and cardiac transplant consultation and care to the people of Wisconsin and beyond.
The Advanced Heart Failure and Transplant (AHFTx) Fellowship Program at the University of Wisconsin Hospital and Clinics (UWHC) is a comprehensive program offering state-of-the-art training in the management of advanced cardiac disease, including the use of support devices, as well the selection of and pre-/post-management of the cardiac transplant recipient. The AHFTx Fellowship Program is a fully funded, one-year training program for candidates who have completed an accredited fellowship in cardiovascular disease. The program is fully accredited by the Accreditation Council for Graduate Medical Education (ACGME).
The AHFTx Fellowship training program at the University of Wisconsin–Madison is unique in that trainees will find themselves working through an integrative program over 12 months, which will include training in both heart failure and cardiac transplantation. Trainees will learn to manage heart failure patients using a number of established and experimental treatment options. Trainees will also gain experience in the selection and management of implantable devices and be exposed to the transplant process, including donor selection and immunology care. Trainees are also required to participate in scholarly activity projects, which may be carried out over their one year as a fellow, or over an additional 6-12 months, pending sufficient funding.
Program Showcase
Comprehensive, learner-centered education
Program support to attend local and national conferences
Dedicated quarterly fellows meeting with program leadership
Weekly and monthly educational conferences
Department of Medicine Global Health Pathway with opportunities to engage in global health didactics, research, and a clinical elective
Support for fellows and faculty in addressing wellness and achieving life-balance
Multi-disciplinary team approach to management of complex cases
High volume transplant center with innovative approaches to management, and excellent outcomes
Research
The Division of Cardiovascular Medicine is proud to have a long-standing, well-funded, robust research enterprise encompassing all forms between bench and clinical research. The major themes of CVM research topics include heart failure and ventricular function, electrophysiology and arrhythmias, and vascular biology including prevention and imaging.
Trainees with a strong research interest may also inquire about the possibility of further advancing their research interests and experience through the addition of a dedicated year of post-grad training on our T32 Research Grant.
Please visit our CVM Division Research and Fellowship Research Opportunities pages for more information.
Program History
Our Advanced Heart Failure and Transplant Fellowship Program has maintained continuous accreditation since initial accreditation by the ACGME on July 1, 2012. We have had eight trainees successfully complete our program who have established careers in both academic and private practice settings.
Image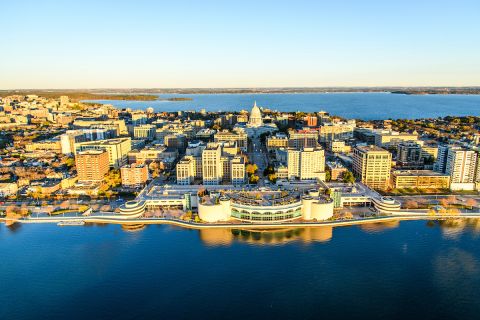 Living in Madison, Wisconsin
Madison is the Wisconsin state capital, and second-largest city in Wisconsin with a population of more than 250,000 people. With the dynamism of a large city and the friendliness and accessibility of a small town, Madison provides an ideal place for anyone to live. Madison offers a large array of activities including hiking and biking, shops and art galleries, cafes and restaurants, theaters and museums, rowing and kayaking, year-round farmers markets, and so much more. Uniquely, a very large portion of the downtown sits on an isthmus between Lake Mendota and Lake Monona, which are only two of 5 lakes nearby.
For more information, please visit: The Greater Madison Chamber of Commerce, City of Madison, or Visit Madison.