Calcium Absorption Research Group
Welcome to the Calcium Absorption Research Group's home page. Our group strives to study and understand different factors that affect calcium absorption in post-menopausal women. Follow the links below to learn more!
Welcome
Welcome to the Rheumatology division within the UW Department of Medicine. We are located in the UW Madison Hospital and Clinics building at 600 Highland Ave., Madison, WI 53792. The Rheumatology division consists of ten clinical rheumatologists and a nurse practitioner committed to providing high-quality patient care, research and education in the field of arthritis and autoimmune diseases.
Dr. Karen Hansen's Bio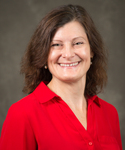 Karen Hansen joined the University of Wisconsin faculty in 2001. She has joint appointments in the rheumatology and endocrine divisions and is a faculty member of the UW Osteoporosis Clinical Center and Research Program. Dr. Hansen spends 75% of her professional time performing clinical research studies that focus primarily on osteoporosis and related diseases.
Hansen graduated from Luther College with a bachelor of arts degree and then completed her medical degree at the University of Wisconsin. A residency in Internal Medicine was completed at the University of Wisconsin, followed by a year as Chief Resident for the department. Duke University Medical Center was the site of her fellowship in Rheumatology.
Awards and honors include teaching awards from residents and medical students, "Fellow of the Year" award as an outstanding Rheumatology Fellow, and membership in Alpha Omega Alpha and Phi Beta Kappa.
Hansen offers consultation in Osteoporosis and Metabolic Bone Disease through the Clinical Osteoporosis Center located at West Clinic. She sees patients with rheumatologic or autoimmune diseases in the West Side Rheumatology Clinic. She analyzes bone densitometry studies performed within the UW Radiology Center. She also performs tetracycline-labeled bone biopsies to evaluate conditions causing skeletal fragility.
Ongoing research projects include a randomized placebo-controlled clinical trial of vitamin D therapy for people with rheumatoid arthritis, use of calcium isotopes to determine alterations in calcium homeostasis among postmenopausal women with vitamin D insufficiency, and analysis of lumbar spine bone mass using three different methods as a means of predicting fragility fracture among men in the MrOS study.