Sara McCoy, MD | Research on Sjӧgren's Syndrome
Image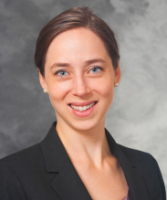 Dr. Sara McCoy is a rheumatologist focused on advancing our understanding of Sjӧgren's syndrome in order to develop new therapies.
Mission
Dr. McCoy's goal is to define how Sjӧgren's syndrome develops with the ultimate goal of improving treatment options for patients with Sjӧgren's syndrome.
Overview
Dr. Sara McCoy's overarching research goal is to advance understanding of Sjӧgren's Syndrome to ultimately improve therapeutic options. Dr. McCoy is working to accomplish this goal by defining how mesenchymal stromal cells impact local salivary gland immunobiology, in collaboration with Dr. Jacques Galipeau; clarifying the role of sex hormones, like estrogen, in Sjӧgren's syndrome epidemiology and pathogenesis, in collaboration with Dr. Christie Bartels and Dr. Yun Liang; and discovering novel biomarkers and therapies for Sjӧgren's patients, in collaboration with Dr. Miriam Shelef.
Publications