Miriam Shelef, MD, PhD | Rheumatoid Arthritis Research
Image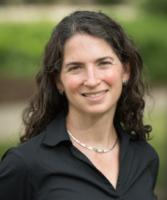 Dr. Miriam Shelef is an immunologist and a rheumatologist with a research program focused on better understanding the pathophysiology of rheumatoid arthritis to inform the development of novel biomarkers and treatments.
Mission
Dr. Shelef's research aims to solve the mysteries of how and why systemic autoimmunity develops and persists in order to guide the discovery of better clinical tests and improved treatments.
Overview
Dr. Shelef's lab has two major research directions. First, her research group aims to define the role of citrullination and the citrullinating peptidylarginine deiminase enzymes in immunity, inflammation, and rheumatoid arthritis.
Second, her team uses traditional methodology and cutting-edge high density array technology with innovative statistical methods in collaboration with Dr. Michael Newton to discover new autoantibody targets as well as novel features of antibody and autoantibody reactivity in rheumatoid arthritis, systemic lupus erythematosus, and other autoimmune and inflammatory diseases. 
Publications
View Dr. Miriam Shelef's publications on NCBI My Bibliography
Funding Support
Dr. Shelef's research has been supported by the Rheumatology Research Foundation, the NIH NIAMS, the Wisconsin Partnership Program, the Doris Duke Charitable Foundation, the Congressionally Directed Medical Research Programs, and the University of Wisconsin.