Shivani Garg, MD, MS | Research on Lupus and Lupus Nephritis
Image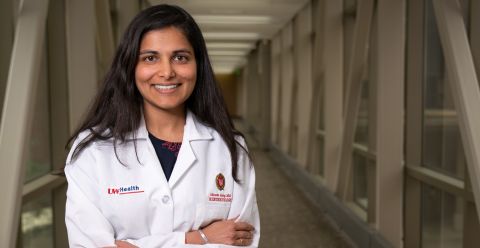 Dr. Shivani Garg established the first lupus clinic in Wisconsin and the nation's fifth multidisciplinary lupus nephritis clinic at UW Health, with the goal of providing comprehensive health care to patients with systemic lupus erythematosus (SLE).
Improving Lupus Disease Outcomes
Through those clinics, Dr. Garg is creating and maintaining a lupus data repository. She is also collaborating with Dr. Christie Bartels, Dr. Miriam Shelef, and Dr. Yun Liang to better understand the pathophysiology of lupus and to improve outcomes and reduce racial and ethnic disparities in lupus as they relate to kidney failure, cardiovascular disease and early mortality.
In addition, Dr. Garg is evaluating renal arteriosclerosis as a predictor of cardiovascular disease in lupus nephritis, hydroxychloroquine on transplant outcomes in lupus nephritis, and adherence assessments in measuring and addressing medication adherence in lupus.