Christie Bartels, MD, MS | Health Services Research and Implementation Science
Image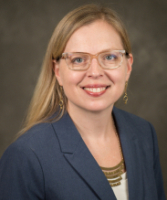 Dr. Christie Bartels is a rheumatologist health services researcher and implementation scientist. Her research aims to improve cardiovascular health and longevity and reduce health disparities among patients with rheumatoid arthritis, lupus, and other conditions. Her work is cited in the 2018 U.S. cholesterol guidelines and has led to over 60 peer-reviewed publications. 
Population Health Approaches to Improve Cardiovascular, Rheumatic Disease Outcomes and Reduce Disparities
In addition to a number of epidemiologic studies, Dr. Bartels has developed innovative electronic health record-supported blood pressure (BP) and Quit Connect protocols for rheumatology clinic staff that reduced rates of high blood pressures across 28,000 visits. The successful implementation of these protocols achieved population-level blood pressure improvement with a significant reduction in racial disparities, as well as 20-fold higher smoking cessation referrals.
These population health approaches aim to improve both rheumatic disease and cardiovascular disease outcomes. Dissemination research based on the BP and Quit Connect Interventions is underway at Emory/Grady rheumatology and other centers.
Bartels' team also investigates Care Continuum pathways and interventions to reduce disparities in systemic lupus care and outcomes.
Publications
View Dr. Christie Bartels' publications on NCBI My Bibliography
Funding Support
Dr. Bartels has had funding from the the NIH/National Institute of Arthritis and Musculoskeletal and Skin Diseases, the NIH/National Institute on Minority Health and Health Disparities, the Rheumatology Research Foundation, the Wisconsin Partnership Program and other foundations.