About Us
Dr. Hansen and her research staff work in the University of Wisconsin Hospital and Clinics. Our research studies involve vitamin D therapy, calcium absorption, bone mineral density and medications that may affect calcium. Dr. Hansen is the principal investigator on all research studies.
Dr. Karen Hansen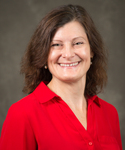 Karen Hansen joined the University of Wisconsin faculty in 2001. She has joint appointments in the rheumatology and endocrine divisions and is a faculty member of the UW Osteoporosis Clinical Center and Research Program. Dr. Hansen spends 75% of her professional time performing clinical research studies that focus primarily on calcium absorption, osteoporosis and related diseases.
Hansen graduated from Luther College, Decorah, IA, with a bachelor of arts degree. She completed her medical degree at the University of Wisconsin followed by a residency and chief resident year in the University of Wisconsin Department of Medicine. A residency in Internal Medicine was completed at the University of Wisconsin, followed by a year as Chief Resident for the department. Duke University Medical Center was the site of her fellowship in Rheumatology.
Awards and honors include teaching awards from residents and medical students, "Fellow of the Year" award as an outstanding Rheumatology Fellow, and membership in Alpha Omega Alpha and Phi Beta Kappa.
Hansen offers consultation in Osteoporosis and Metabolic Bone Disease through the Clinical Osteoporosis Center located at West Clinic. She sees patients with rheumatologic or autoimmune diseases in the West Side Rheumatology Clinic. She analyzes bone densitometry studies performed within the UW Radiology Center. She also performs tetracycline-labeled bone biopsies to evaluate conditions causing skeletal fragility.
Phone Number: (608) 263-0517
Email: hansenteam@medicine.wisc.edu
View Dr. Karen Hansen's publications on NCBI MyBibliography  
Ms. Christina C. Lemon, MS, RD, CD
Christina is a registered dietitian with an MS in Nutritional Sciences. After completing her BA in Nutrition at Albion College (Albion, MI) and her dietetic internship at Henry Ford Hospital (Detroit, MI), Christina worked many years as a clinical dietitian and chief clinical dietitian at hospitals in Lansing, MI and Madison, WI. She completed her masters degree at the University of Wisconsin-Madison, then worked several years as a lecturer and research specialist in the Department of Nutritional Sciences and the School of Nursing. More recently, Christina chaired Wisconsin Dietetic Association's Outcomes Management Committee, which was responsible for planning, conducting, funding and publishing results from WDA's Type 2 Diabetes Outcomes Study (J Am Diet Assoc. 2004;104:1805-1815). Christina is the recipient of WDA's Medallion Award (2007) and the American Dietetic Association's Award for Grassroots Excellence (2008).
Name: Christina C Lemon
Title: Associate Clinical Dietitian
Address:
4170-09F MFCB, Rm 07D
1685 Highland Avenue
Madison, WI 53705
Phone Number: (608) 265-4372
Email: cclemon@medicine.wisc.edu