Rotations
Subspecialty Clinics
Two 2-month rotations in both the UW and VA systems 
Explore different geriatrics specialty clinics with expert clinicians and interdisciplinary colleagues in nursing, physical therapy, social work, pharmacy, and neuropsychology
Experiences may include:

Memory Assessment
Falls
Osteoporosis
Geriatric Psychiatry
Many more tailored experiences are available based on your individual interests
Acute Care for Elders
Three 1-month rotations at University Hospital
Work in a fast-paced interdisciplinary team environment where physicians, advance practice nurses, a social worker, pharmacist, physical therapist, and health psychologist collaborate to optimize care for hospitalized older adults
Address numerous topics in geriatric medicine, including:

Delirium
Behavioral and psychological symptoms of dementia
Decisional capacity 
Falls
Polypharmacy
Social/caregiver issues
Perioperative management, etc.
Nursing Home and Rehabilitation
One 1.5-month rotation in both the UW and VA systems
Work with nursing home medical directors, advanced practice providers, and facility nurses, social workers, and therapy providers to deliver post-acute and long term care to older adults in area facilities
Experiences include:

Performing transition visits upon admission to and discharge from a skilled nursing facility 
Seeing nursing home residents with acute concerns
Understanding the role and responsibilities of a nursing home medical director in both a community nursing home and a VA Community Living Center (CLC)
Becoming acquainted with performance metrics that the Centers for Medicare and Medicaid Services track to measure facility quality, and more!
Palliative Care and Hospice
One month with the VA palliative care inpatient consultation service and two weeks with an area community hospice agency
Work with palliative care physicians, nurses, and social workers in the hospital and community
Experiences include:

Developing skills to engage in difficult conversations with patients and families
Caring for patients with serious illnesses, difficult to control symptoms, or who are near the end of life
Working alongside interdisciplinary team members to provide comprehensive end-of-life care
Understanding hospice eligibility criteria and payment structure, and more!
Community and Home Care
One month with the UW Home-based Primary Care (HBPC) team, along with UW and VA-based services that assist in care delivery for homebound and recently hospitalized older adults
Work with physicians, nurses, social workers, and therapy providers to deliver comprehensive care for older adults with complex medical problems who are in living in the community
Experiences include:

Participation in team meetings and development of skills to perform home visits with HBPC patients
Didactic series covering home visits from both a regulatory and logistical perspective
Opportunities to work with a local home health agency to understand care delivery in the home health arena
Introduction to transitional care programs that seek to reduce unnecessary rehospitalizations in the post-acute setting
Participation in a novel VA-based telemedicine program aimed at bringing geriatric medicine expertise to older veterans living in rural communities
Opportunity to perform a home visit on one of your Geri-PACT primary care patients, and more!
Elective
One month (may be divided into two half-month blocks) in UW- or VA-based activities
Explore areas of personal interest in the field of geriatrics and gerontology
Options include:

A research project in the field of aging with one of the many division faculty who are clinician-scientists or basic scientists
An educational project related to geriatrics education
Additional exposure to clinical experiences in geriatric subspecialties or fields pertinent to the practice of geriatric medicine, and more!
Image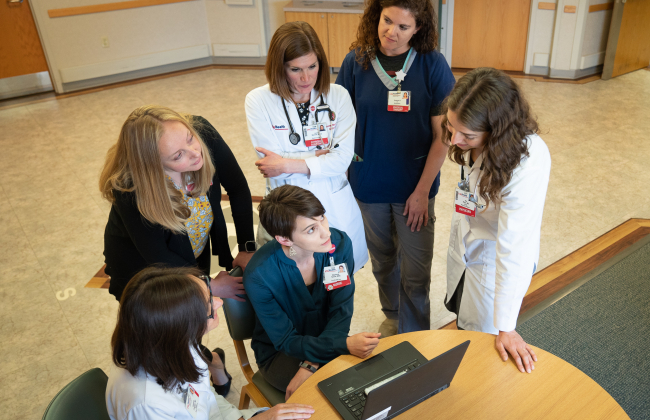 Geriatrics Patient Aligned Care Teams (Geri-PACT)
Twelve months with a VA-based primary care panel where you work with our expert physician educators in geriatrics primary care as well as nursing, pharmacy, and social work colleagues to care for some of the most complex elderly veterans
UW-based Continuity Clinic
Nine months with a UW-based ambulatory clinical experience in an area of interest
Choose a primary care geriatrics experience or select from one of the many geriatrics subspecialty clinics the University has to offer
Nursing Home Continuity Practice
Twelve once-monthly visits to an area community nursing home with a geriatrician who specializes in long term and post-acute care
Follow long-term–care residents and post-acute residents, collaborating with on-site advanced practice providers and facility staff
Image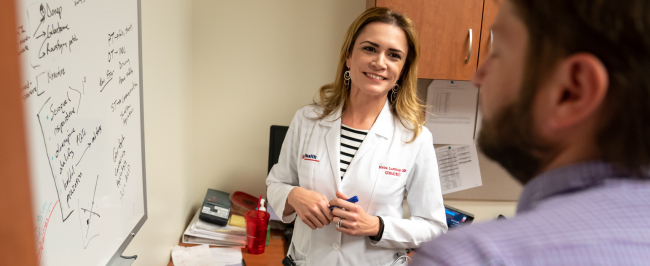 Geriatric Medicine Core Lecture Series
Tuesday mornings at 7:30 am
Year-round series of lectures focused on key topics in geriatric medicine led by area content experts
Geriatrics Interprofessional Conference Series
Tuesdays at noon
Series of lectures over nine months covering new developments and best practices in geriatrics and gerontology
Regular offerings include:

Geriatric Medicine Grand Rounds
Alzheimer's Disease Research Center Seminar Series
Geriatrics Journal Club
Clinical-Pathological Correlate Series
Geropsychology Colloquium
Alternating Mondays at 3:00 pm
Year-round series of case-based discussions focusing on topics in mental health among older adults
Fellows Most Difficult Case Conference
Once-monthly national teleconference on the first Wednesday of the month
Year-round series of case-based discussions regarding management of a complex older adult patient
Department of Medicine Grand Rounds
Fridays at 8:00 am through the academic year (view Grand Rounds archives)
Weekly offering from September through June that covers new developments and best practices in general internal medicine and internal medicine subspecialties
Additional Opportunities
The Department of Medicine Global Health Pathway offers opportunities for fellows from all specialties to engage in global health didactics, research, and a clinical elective.