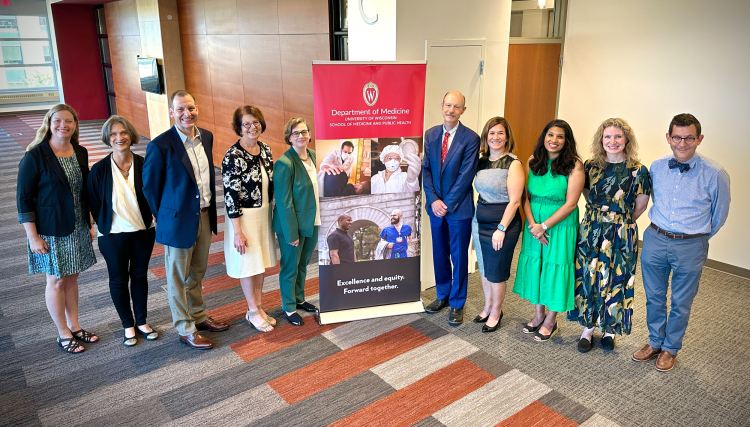 On Friday, September 16, fourteen Department of Medicine faculty were honored with endowed professorships, fellowships, or chairs at the department's 2022 Investiture Ceremony, held on campus in the Health Sciences Learning Center.
Department Chair and George R. and Elaine Love Professor Lynn Schnapp, MD, welcomed attendees. "Every day," Dr Schnapp said, "[Our faculty] are working to make healthcare better through their clinical practice, through top-ranked research programs and by teaching the next generation of physicians."
However, she noted, much of this work would not be possible without the patients and partners who give philanthropically to endow faculty positions. "I'm inspired by your generosity and support," she said. "It's truly what makes Wisconsin special."
Following Dr. Schnapp, Robert N. Golden, MD, dean of the School of Medicine and Public Health (SMPH), highlighted how endowments make an impact over time. He added that the value of named positions in the department goes far beyond the individual faculty or donors associated with them: they enhance school-wide recruitment, recognition and retention. 
New Endowments
Three faculty were assigned to newly endowed positions:
Elizabeth "Betsy" Trowbridge, MD, clinical professor and division chief, General Internal Medicine – Kenneth D. Skaar, MD, Chair of Primary Care
Timothy Kamp, MD, PhD, professor, Cardiovascular Medicine – Stem Cell and Regenerative Medicine Research Professor
Sumona Saha, MD, MS, associate professor (CHS), Gastroenterology and Hepatology – Judy and Sal Troia Faculty Fellow in Inflammatory Bowel Disease Leadership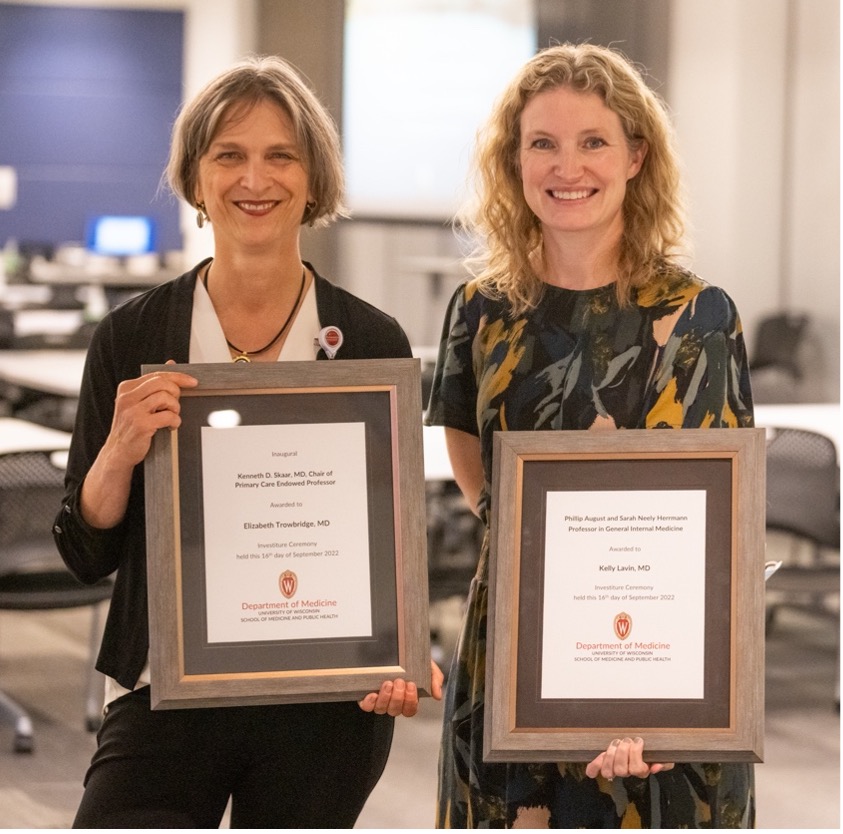 Above: Betsy Trowbridge, MD, (left) and Kelly Lavin, MD (right). (Photo credit: Clint Thayer/Department of Medicine.)
New Assignments
Four existing endowed positions received new holders:
Kelly Lavin, MD, associate clinical professor, General Internal Medicine – Phillip August and Sarah Neely Herrmann Professor in General Internal Medicine
Kari Wisinski, MD, professor (CHS) and division chief, Hematology, Medical Oncology and Palliative Care – Endowed Professor of Hematology and Oncology
Megan Piper, PhD, professor, General Internal Medicine, and Danielle McCarthy, PhD, professor, General Internal Medicine – University of Wisconsin Chairs for Tobacco Research and Intervention Research Professors
Anne O'Connor, MD, associate professor (CHS) and senior associate chief for clinical affairs, Cardiovascular Medicine – Dr. Herman and Ailene Tuchman Chair in Clinical Cardiology
Timothy Baker, PhD, professor emeritus, General Internal Medicine – Glaxo Wellcome Chair for the Study of Tobacco Dependence
Renewals
Five faculty with existing endowed positions received renewals for another five years, in testament to their outstanding accomplishments in research, teaching and leadership: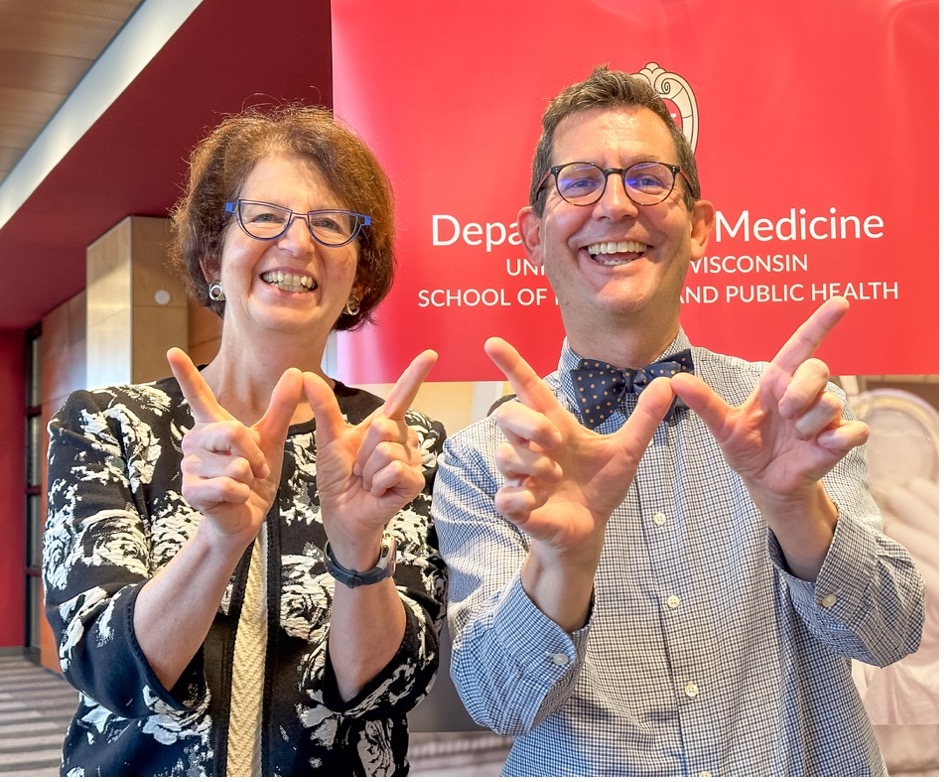 Above: Department Chair Lynn Schnapp, MD, (right) and Vincent Cryns, MD, (left) share their love of UW. (Photo credit: Clint Thayer/Department of Medicine.)
Banner photo, from left: Megan Piper, PhD; Betsy Towbridge, MD; Jim Stein, MD; Lynn Schnapp, MD; Danielle McCarthy, PhD; Timothy Kamp, MD, PhD; Kari Wisinski, MD; Sumona Saha, MD, MS; Kelly Lavin, MD; and Vincent Cryns, MD. (Photo credit: Clint Thayer/Department of Medicine.)