Sarah Panzer, MD: Improving Kidney Transplant Graft and Patient Survival
Sarah Panzer, MD, is a nephrologist with expertise in glomerular diseases. Her research focuses on transplant glomerulopathy and clinical diagnostics and therapies to improve survival in kidney transplant patients.
Preventing Immune Injury and Fibrosis
Dr. Panzer's lab investigates ways to prevent immune injury and fibrosis within kidney transplants and to improve allograft and patient survival in kidney transplant patients. 
Her team uses state-of-the-art techniques in immunology, histology, and molecular biology to investigate the mechanisms of injury to kidney transplants. 
A better understanding of how the immune system causes acute and chronic rejection and damages the transplanted kidney could lead to new, more effective therapies.
Image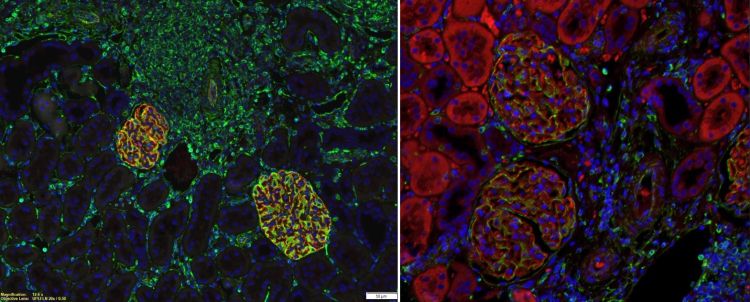 Above, transplant kidney sections. Left image: A molecule present in kidney fibrosis, vimentin, is stained in green and a marker for a kidney cell type, podocytes, is stained in red. Right image: The cytokine BAFF, in red, is found in tubules and glomeruli of the transplant kidney, and vimentin distribution is shown in green. Both images: nuclei are stained in blue.
Active Projects
Pathogenesis of Acute and Chronic Kidney Allograft Rejection

The main cause of kidney transplants is rejection. A major goal of our lab is to better understand how the immune system causes acute and chronic rejection and damages the transplanted kidney so that effective therapies can be developed. We investigate acute and chronic active antibody-mediated rejection in in vivo models of kidney transplantation.

Role of B Cells and B Cell Survival Cytokine (BAFF and APRIL) in Promoting the Immune Response in Kidney Transplantation

Currently, there are no FDA-approved therapies to treat antibody-mediated rejection. B cells and B cell survival cytokines are major contributors to antibody-mediated rejection in transplantation. B cells and B cell survival cytokines represent innovative therapeutic targets. We are investigating novel targeted therapeutics and genetic strains in B cells, BAFF, and APRIL.

Mechanisms of Injury to Glomerular Endothelial Cells

Endothelial cells in the kidney transplant are the first target of the immune system in rejection. We use endothelial cell culture and histology to investigate endothelial injury that occurs during rejection in the kidney transplant.

Immune-Mediated Kidney Injury Due to the Complement System

Activation of the Complement System can directly damage kidney cells. Through the profiling of complement proteins in kidney tissues, we investigate active pathways of inflammation and therapeutic targets for kidney disease.
Image
Positions Available
There are opportunities for motivated undergraduates, graduate students, and postdocs in the Panzer lab! If you are interested in joining the group, please send your CV and a brief description of your research experience and interests to Dr. Panzer at sepanzer@medicine.wisc.edu.
More research training opportunities
Funding Support
Dr. Panzer's research is funded by the National Institutes of Health/National Institute of Diabetes and Digestive and Kidney Diseases.
Make a Gift
Help support our research by making a gift to the Department of Medicine's Nephrology Fund for Excellence.