Mission Statement
To train interventional nephrologists in innovative and highly effective procedures that improve the lives of patients, such as creation and salvage of vascular access, catheter placement and manipulations, and ultrasonography for renal biopsy.
The Interventional Nephrology Fellowship Program at UW-Madison offers one year of clinical and research training with the fellow working as a faculty member at the clinical instructor level in the Division of Nephrology. The program allows training in highly advanced interventional nephrology procedures in diverse clinical settings, allowing the ability to gain procedural competency. The program is accredited by the American Society of Diagnostic and Interventional Nephrology (ASDIN). At the end of their training, fellows have enough experience to receive ASDIN certification in both hemodialysis vascular access procedures and peritoneal dialysis catheter placement. As junior faculty members, fellows also begin to gain leadership experience in academic medicine. Fellows are mentored by interventional nephrologists who are dedicated to developing new techniques that will improve patients' lives by facilitating vascular access for hemodialysis patients with novel methods of treatment and prevention. 
Image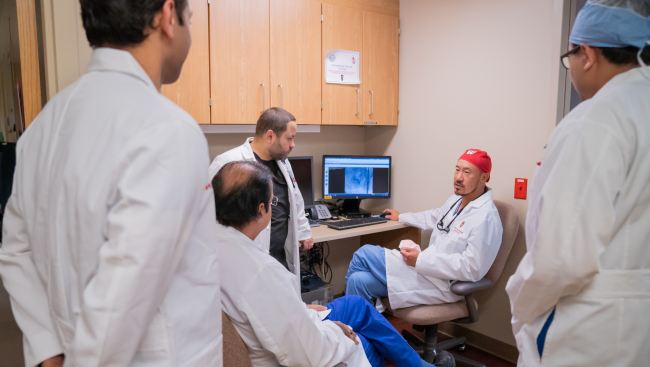 Program History
The UW Interventional Nephrology Fellowship Program is widely regarded as the pioneer in interventional nephrology training. It was established in 2007 with the aim of advancing the emerging field of interventional nephrology in accordance with the mission of the then newly founded American Society of Diagnostic and Interventional Nephrology (ASDIN). So far, 12 fellows have graduated from this program and have gone on to outstanding careers in both academic and private settings. Several have successfully established new vascular access programs in their practices. Interventional nephrology director Dr. Micah Chan is a former councilor and chair of the Education Curriculum Subcommittee of the ASDIN and edited the first textbook on the subject of interventional nephrology. He has also chaired ASDIN annual scientific meetings. Other faculty members in the program have been involved in the development of KDOQI vascular access guidelines and have published over 100 peer reviewed manuscripts, and book chapters.
Interventional Nephrology Fellowship Program Highlights
Clinical locations for interventional nephrology training span both private and public sector institutions including University of WI Hospital and Clinics, and UnityPoint Meriter Hospital. Interventional nephrology fellows engage in exceptionally comprehensive, non-discriminatory, and nationally renowned training that has produced outstanding interventional nephrologists in both the public and private sectors. Highlights of training include:
Fellows gain one year of clinical experience at a leading institution where they teach learners as well as train in one of the top procedure centers. This prepares them to work effectively both as a general and interventional nephrologist in their future career.
Balance of service and procedure time ensures clinical skills are maintained.
Robust didactic schedule with highly involved faculty.
Opportunities to practice in both university and private practice settings.
Diverse population of patients relative to the size of the city and region.
Monthly vascular access meetings involving vascular surgeons, interventional radiologists, interventional nephrologists, and vascular access nurse coordinators providing experience needed to develop vascular access care models for future practices.
Exposure to the latest cutting-edge technologies like endovascular arteriovenous fistula creation.
Fellow do research with interventional nephrology faculty in dialysis access care and are expected to present abstracts at national meetings and to publish manuscripts in peer-reviewed journals.
Image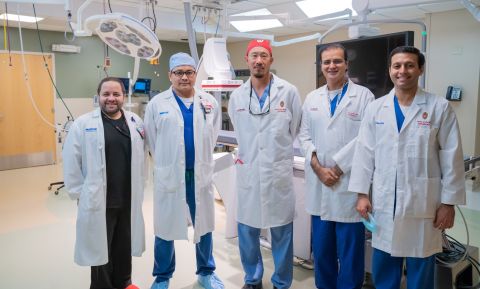 How to Apply
Two fellows are accepted per year, and we are currently accepting applications for the 2023-24 academic year. As a part of your application, you will be asked to upload a current CV, personal statement (cover letter), and three references. To request more information, please email Samantha Strennen, Nephrology Fellowship Coordinator, at sjthomps@medicine.wisc.edu.