The University of Wisconsin interventional nephrology fellowship is widely regarded as the pioneer in interventional nephrology training.
Here, you'll train with national leaders in the field, gain robust clinical experience in one of the nation's top procedure centers, and develop leadership skills in academic medicine.
Image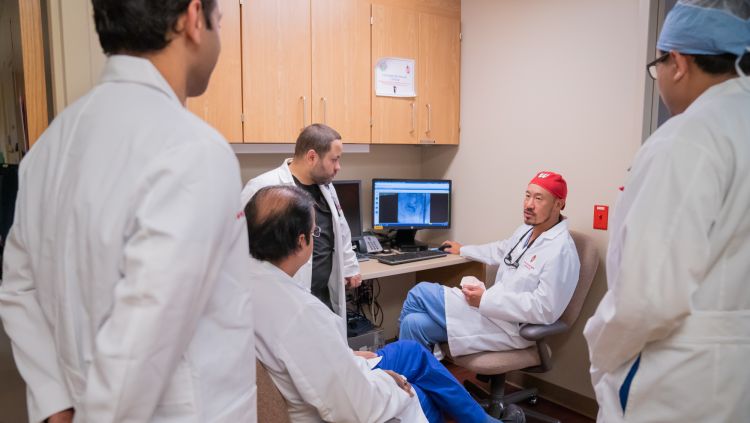 Why You'll Love Our Program
Exposure to cutting-edge technologies and techniques
Balance of service and procedure time ensures clinical skills are maintained
Robust didactic schedule with highly involved faculty.
Dedicated one-year program in a high-volume academic center with opportunities to practice in both university and private practice settings
Opportunity to do research in dialysis access care and present at national meetings
Life in Madison
More about Madison | Discover Wisconsin
Meet Our Program Director
"Dialysis access is the lifeline of a dialysis patient. As interventional nephrologists, we perform life-saving procedures for these patients every day.
At UW, we pride ourselves to be one of the earliest interventional nephrology training programs in the country. We have introduced innovative technologies, including endovascular AV fistula creation and the Surfacer inside-out catheter system, which places us in a perfect position to remain leaders in the field."
How to Apply
We accept two fellows per year. Applications are accepted on a rolling basis until both positions fill, though to ensure your application is considered, you should submit your application by the end of September.
As a part of your application, you will be asked to upload a current CV, personal statement (cover letter), and three references; one of your references must be the Program Director of your general nephrology fellowship program.
Apply Now!
We are not currently accepting applications. Please check back in late spring/early summer to apply. For more information, please contact:
Sam Strennen
Program Manager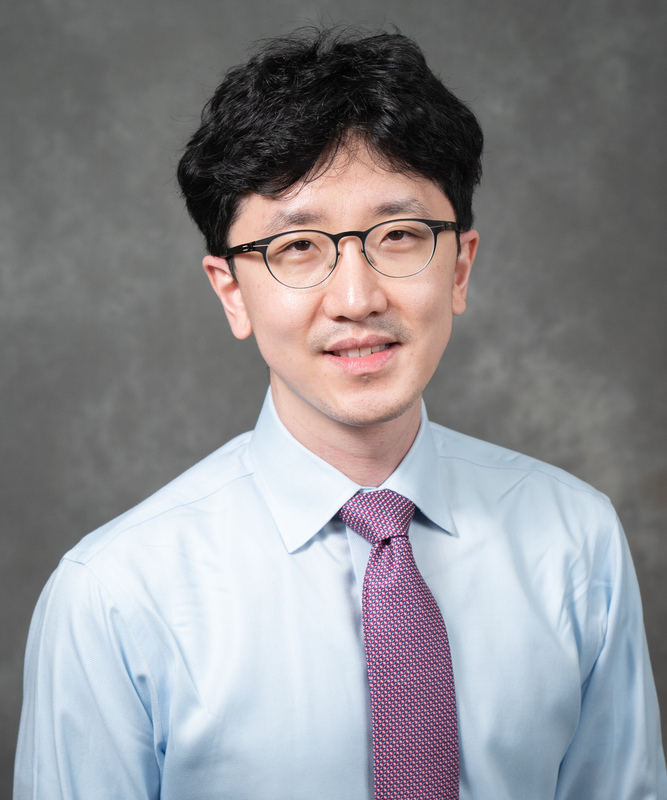 Medical School: Alabama College of Osteopathic Medicine
Residency: McLaren Health Care, Lansing, MI
General Nephrology Fellowship: University of Wisconsin–Madison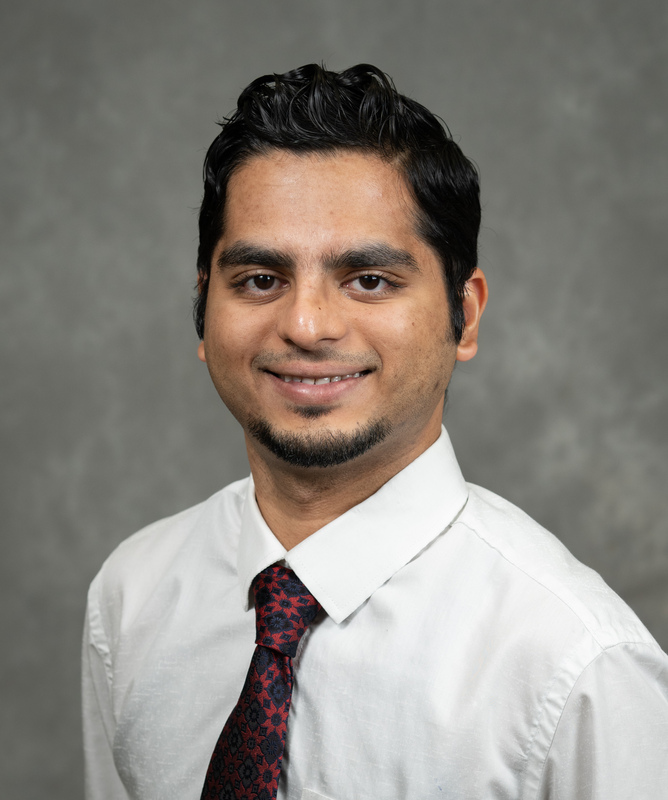 Medical School: Mahatma Gandhi Mission's Medical College, Navi Mumbai
Residency: Loyola/MacNeal, Berwyn, IL
General Nephrology Fellowship: University of Wisconsin – Madison
Graduate Success
University of Wisconsin interventional nephrology fellowship graduates have gone on to outstanding careers in both academic and private settings. Several have successfully established new vascular access programs in their practices.
Faculty and Staff
Administrative Staff
Our administrative staff is your primary contact and resource for questions and concerns.
Image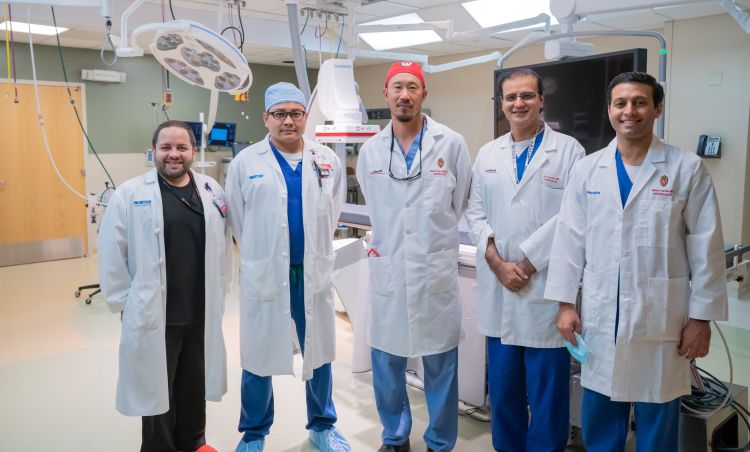 Curriculum
Our fellowship offers exceptionally comprehensive, non-discriminatory, and nationally renowned training that has produced outstanding interventional nephrologists in both the public and private sectors.
As a fellow, you'll gain one year of clinical experience at one of the top procedure centers, and also teach other learners. You'll be prepared to work effectively as a general and interventional nephrologist in your future career.
Didactic Experiences
You'll have access to all general nephrology didactics and conferences, plus these didactic sessions and teaching methods:
Teaching Interventionalist lecture series (weekly) 
Journal Club (quarterly)
Vascular access care conference/M&M (monthly)
Procedural teaching (daily)
Clinical Procedure Requirements
100 angiograms
100 angioplasties
100 tunneled catheters
10 PD catheters
10 thrombectomies
10 native biopsies (may transfer from previous program)
10 transplant biopsies (may transfer from previous program)
Scholarly Activity
Research. You'll conduct research with interventional nephrology faculty in dialysis access care. You are expected to present abstracts at national meetings and to publish manuscripts in peer-reviewed journals.
Teaching. You'll have the opportunity to teach general nephrology fellows, medical students and internal medicine residents who rotate with Nephrology throughout the year. You may also choose to lead small and medium group discussions as a part of the medical school's renal course each year.
Educator Development. The Department of Medicine's Fellow Medical Education (FAME) Training Track trains fellows to become effective clinician-teachers and scholars. Our department also offers several educator resources designed to address the issues and questions that educators confront regularly.
Mentoring
Fellows are mentored by the program director and by Micah Chan, MD, a nationally renowned leader in interventional nephrology.
Aims
At the end of the training year, fellows will be able to:
Demonstrate expertise in vascular access management
Demonstrate expertise with all endovascular procedures involving dialysis vascular access
Understand the potential complications that can occur with endovascular procedures and how to effectively manage them
Understand the techniques available to implant a PD catheter
Understand and manage potential complications of PD catheter placement
Understand the basic elements and operation of ultrasonography equipment
Understand how to perform venous mapping
Demonstrate the ability to perform native or transplant kidney biopsy
Understand how to perform kidney, bladder, and urinary system ultrasound
Understand the concept of endovascular AV fistula creation, patient screening and post procedure maturation process.
Understand basic radiation physics
Understand the effects of radiation exposure and the methods to decrease risk
Become familiar with radiation monitoring
Understand the operation of fluoroscopy equipment
Understand the principles of epidemiology and clinical research design
Be able to apply research to clinical practice
Understand the principles of biostatistics in research
Understand the principles of ethics in research
Understand all aspects of office and personnel management
Be familiar with medical insurance and reimbursement
Excel at billing and coding interventional nephrology procedures
Demonstrate the ability to independently manage an outpatient vascular access center
The program is accredited by the American Society of Diagnostic and Interventional Nephrology (ASDIN). At the end of their training, fellows have enough experience to receive ASDIN certification in both hemodialysis vascular access procedures and peritoneal dialysis catheter placement.