UW Health endocrinologists focus on clinical care that's evidence-based. Our goal is to provide exceptional care for patients with a wide variety of endocrine and metabolic disorders, such as:
type 1 and type 2 diabetes mellitus
osteoporosis
Paget's disease
metabolic bone diseases
hyperparathyroidism or hypoparathyroidism
thyroid and adrenal disease
cholesterol and lipid disorders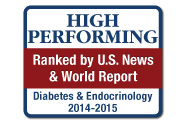 Faculty physicians offer consultations for hospitalized patients with these and other endocrine-related disorders, as well as for transplantation patients with metabolic problems.
For information on conditions and treatments, visit
UW Health
.