Brian Williams, MD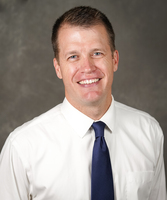 Clinical Assistant Professor
Division of Hospital Medicine
Medical School: University of Wisconsin School of Medicine and Public Health
Residency: University of California - San Diego (Internal Medicine and Pediatrics)
Fellowship: University of California - San Diego (Pediatric Hospital Medicine)
Joined the Department of Medicine as a faculty member: July, 2018
What is your primary professional focus in any or all of our mission areas (clinical, research, and/or medical education)?
My main focus is on providing excellent clinical care to hospitalized adults. I am hoping to become more involved in education of trainees as well as research around tobacco cessation.
What drew you to UW-Madison and the Department of Medicine?
Having attended UW-SMPH, I am well aware of the incredible people that work at UW and the outstanding reputation of the institution. An opportunity to return to UW was something I'd been contemplating for years.
What are you most excited about during your first year with the department in this role?
I am most excited to make new connections with the many outstanding people that work at UW.
What do you enjoy doing when you're not working?
I enjoy spending time with my family, learning musical instruments, coaching my children in sports, and seeing live music.
Favorite piece of advice from a mentor or inspiring figure in your life?
"Trust no one!" I was told this as a medical student after I likely reiterated someone's else's read on a chest x-ray. I took this advice to heart and I think it helped me become a more independent thinker moving forward.