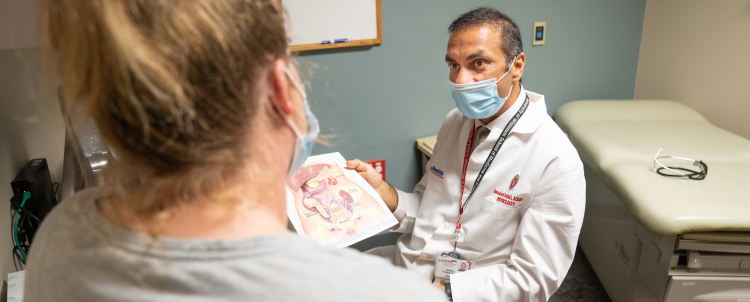 Sandesh Parajuli, MD, associate professor, Nephrology, and transplant nephrologist with the William S. Middleton Memorial Veterans' Hospital (Madison-VA), has taken a leading role in educating his medical colleagues on kidney transplant patient care.
It is estimated that there have been over 250,000 kidney transplants in the United States. As the number of transplants grows, so too does the need to involve primary care providers and non-subspecialized nephrologists in transplant patient care.
Organizing a National Series
This year, Dr. Parajuli was asked to organize a six-week virtual lecture series around renal transplant. The series is part of the annual National Renal Veterans Affairs Extension for Community Health Outcomes (VA ECHO) program "Living Well with Kidney Disease," for physicians and advanced practice providers with VA appointments.
The series runs from January 18 to February 22 and includes six physicians—from VA-Madison; the Audie L. Murphy Memorial Veterans' Hospital in San Antonio, Texas; and the Edward Hines, Jr. VA Hospital in Chicago, Illinois—who will discuss a new subtopic such as transplant surgery, immunosuppression, drug interaction or infection complications, each week.
"There are many things I want [my colleagues] to know about working with transplant patients," he says. "It's a complicated area."
Dr. Parajuli's own talk, on transplant complications, took place on January 25 and drew a record 117 attendees. The audience included providers in pharmacy, primary care and nursing.
"I think that shows there is real value in educational programs like this, not just for the specialists or subspecialists but for anyone who helps care for their patients," he says.
Sohaib Karim, MD, assistant clinical professor, Nephrology, will close the series with a presentation on vascular care in chronic kidney disease.
Reaching a Broader Audience
In the interest of furthering renal transplant education beyond the VA, Dr. Parajuli and his colleague Fahad Aziz, MD, assistant professor, Nephrology, have also published three significant books on the topic.
The most recent, Complications in Kidney Transplant, was published in 2022 and is intended for future and current transplant physicians as well as primary care providers. It includes 72 chapters of clinical cases covering transplant nephrology concepts from diagnosis to post-transplant infections.
The two previous books are intended for entirely different audiences—the first for non-transplant residents and fellows, and the second for transplant patients themselves.
"Patient education is so often neglected in transplant medicine, when in a way, patients are the most important group to educate," Dr. Parajuli points out. "After all, true quality care begins and ends with a well-informed recipient."
Banner: Dr. Parajuli in conversation with a patient. Credit: Clint Thayer/Department of Medicine