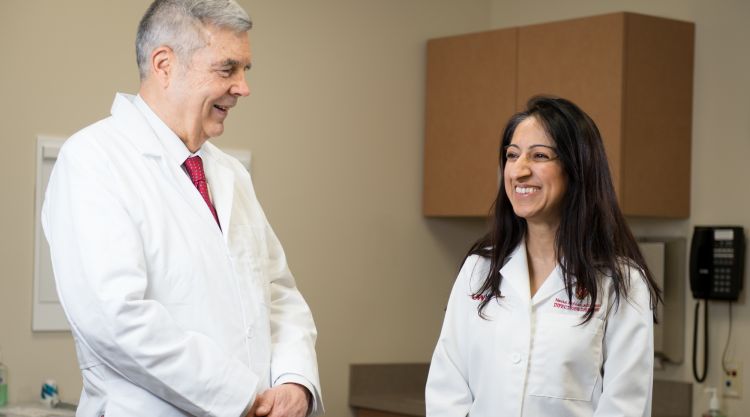 Nasia Safdar, MD, PhD, professor, Infectious Disease, has been appointed as the first Dr. Dennis G. Maki Endowed Faculty Fellow.
The philanthropic support for this fellowship comes from a number of gifts in honor of the many renowned contributions of Dennis Maki, MD, professor emeritus, Infectious Disease, to patient care, research and education.
Dr. Maki's path-breaking studies on hospital-acquired infections have made him known to many as the architect of modern-day infection control. Notably, he developed clinical guidelines for infection control that have been embraced around the world.
Dr. Maki led the Division of Infectious Disease for 30 years, and has served as a consultant to the Center for Diseases Control, National Institutes of Health, Food and Drug Administration and Health and Human Services.
Like Dr. Maki, Dr. Safdar's research is focused on quality improvement measures aimed at reducing healthcare-associated infections (HAI), as well as the rise of multi-drug resistant organisms.
A respected leader in HAI reduction, Dr. Safdar has received a President's Early Career Award for Scientists and Engineers, the highest honor bestowed by the U.S. government on outstanding scientists and engineers beginning their independent careers, and is the primary investigator for numerous ongoing research trials.
This fellowship will allow Dr. Safdar to further develop her work on HAI and infectious disease over the next five years.
"This is a wonderful example of how philanthropic support plays a key role in helping us achieve our mission of innovation in the Department of Medicine. We are truly grateful for the generosity of these donors," said department chair Lynn Schnapp, MD.
Banner photo, Dr. Dennis Maki and Dr. Nasia Safdar in 2016. Credit: Clint Thayer/Department of Medicine