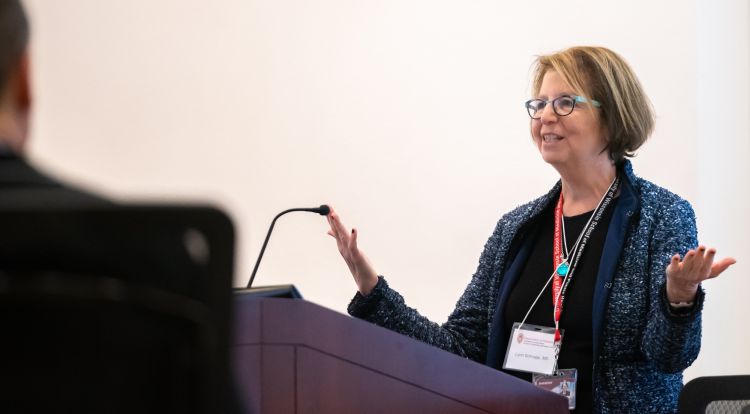 Lynn Schnapp, MD, ATSF, George R. and Elaine Love professor and chair of the Department of Medicine, began her term as president of the American Thoracic Society (ATS) on May 18, 2021, at the Society's annual conference.
Dr. Schnapp's presidency is the culmination of four years of service on the ATS Executive Committee. In this role, she oversees the committee's work, represents the Society and guides strategic priority development.
A member of ATS since 1989, Dr. Schnapp has served on many of its committees, working groups, task forces and assembly programs, and chaired its Respiratory, Cell and Molecular Biology Assembly.
In 2004, she received the Society's Elizabeth Rich Award for outstanding scientific, leadership and mentorship contributions in pulmonary medicine. She became an ATS Fellow in 2019.
While recognizing that her term as president intersects with the global COVID-19 crisis, Dr. Schnapp is enthusiastic about the opportunities that lie ahead.
"As heartbreaking and difficult as the past year has been, it has enabled us to rethink our future in dramatically different ways," she said. "Leveraging new learning methods and technologies will make it easier than ever for us to experiment and collaborate, to share new ideas, to reshape the future of respiratory health, and, by extension, the ATS."
ATS is the world's leading medical association dedicated to advancing pulmonary, critical care and sleep medicine. It has more than 16,000 members and publishes four journals.
Above, Dr. Lynn Schnapp presents at a Department of Medicine leadership meeting in March 2020. Credit: Clint Thayer/Department of Medicine