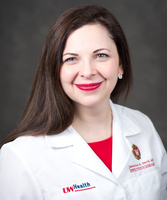 At the UW School of Medicine and Public Health Medical Education Day held on May 27, 2021, Jeannina Smith, MD, associate professor, Infectious Disease, received a Dean's Teaching Award for her outstanding contributions to student education.
During her time here she has devoted much of her energy towards the UWSMPH educational mission. Since joining the Department of Medicine faculty in 2012, she has assumed the role of Co-Course Director for the Foundations of Medicine 2 and 3 courses in 2013 and served in that role until the transition to the ForWard Curriculum in 2018.
Dr. Smith made significant contributions to designing the new ForWard Curriculum, creating teaching materials and activities for the Invaders and Defense Block. Along with her leadership role as a founding Assistant Block Leader for Invaders and Defense, Dr. Smith is also the Program Director for the Infectious Disease Fellowship Program.
Author: Kaine Korzekwa, UW SMPH