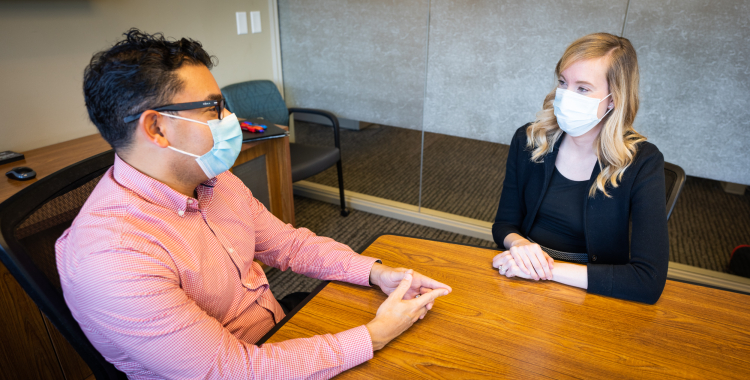 For decades, faculty and trainees thought that effective mentoring happened organically. But now, science and research have come to the field and are identifying the components that make mentoring effective. That is what Department of Medicine faculty learned in a new program that teaches the science of effective mentoring.
The 'Entering Mentoring' sessions, for associate and full professors, focus on how faculty can use mentoring to optimize talent in the department, while the 'Mentoring Up' sessions teach junior faculty to navigate the research training environment and proactively manage mentoring relationships.
"These mentoring programs are unique because they rely on the science of effective mentoring and have proven effectiveness based on implementation research conducted here at UW by the course content developers," says James Stein, MD, professor, Cardiovascular Medicine, and DOM Vice Chair of Faculty Development.
This course translates scientific research about what works and what does not work in mentoring, into practice.
The course content developers and teachers, Angela Byars-Winston, PhD, professor, General Internal Medicine, and Christine Pfund, PhD, associate scientist, Center for the Improvement of Mentored Experiences in Research (CIMER), Wisconsin Center for Education Research, have led national studies on this topic, while Christine Sorkness, RPh, PharmD, senior associate executive director, UW ICTR, is an expert teacher of the program and an expert mentoring educator.
"One of my first contacts after becoming Vice Chair for Faculty Development was Dr. Byars-Winston, because I knew she was a world expert on the science of effective mentoring and could help us implement best practices in mentoring and mentoring training," Dr. Stein says.
Additionally, the program incorporates a systematic approach to culturally aware mentoring, a main focus of Dr. Byars-Winston's research, which is crucial to improving the training environment for faculty and trainees from underrepresented groups.
"Culturally aware mentoring improves our work environment and also enhances the likelihood of success," Dr. Stein notes.
Along with gaining an understanding of the most effective mentoring practices and culturally aware mentoring, participants of each session were able to connect with other faculty in the department, and reflect on their own mentor relationships.
For Laura Maursetter, DO, associate professor, Nephrology, the 'Entering Mentoring' sessions offered a refreshing collaboration with others in the department.
"This course has provided the opportunity to take a step away from normal duties and allow time to reflect on skills that we are using every day. The homework provided was enjoyable and not too onerous to accomplish with applicable examples to practice these ideas," she says.
Blair Golden, MD, MS, assistant professor, Hospital Medicine, took part in the 'Mentoring Up' sessions and said that she enjoyed the chance to connect with other junior faculty members, and to learn from their experiences as mentees.
"I am lucky to have a supportive group of mentors at UW, and the program helped me to reflect on the unique strengths of each of my mentors," Dr. Golden says. 
As the department's Vice Chair for Faculty Development, Dr. Stein explains the importance of investing in and empowering people.
"Nothing matters more than people and we always need to be mindful of how we can help people be successful in their careers and lives," he says.
Banner photo, Freddy Caldera, DO, talks with his mentee Megan Lutz, MD. Credit: Clint Thayer/Department of Medicine