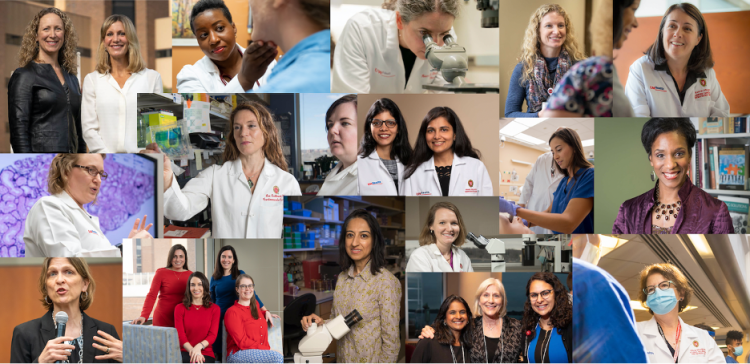 Please join us in honoring the University of Wisconsin Department of Medicine's many accomplished women for Women in Medicine Month. Each year, the American Medical Association honors physicians who have offered their time, wisdom and support to advance women with careers in medicine. This year's theme is "Advancing Equity, Creating Change." Highlighted here are ten women from our department who have demonstrated this theme in their work, often at the national level.
Angela Byars-Winston, PhD
Professor, General Internal Medicine
Director of Research and Evaluation, UW Center for Women's Health Research Associate
Director, Collaborative Center for Health Equity
Faculty Lead, Center for the Improvement of Mentored Experiences in Research
Dr. Byars-Winston's research examines cultural influences on academic and career development, especially for women and individuals from underrepresented racial and ethnic groups in the sciences, engineering, and medicine, with the aim of broadening their participation in STEM fields. She led a National Academies of Sciences, Engineering, and Medicine committee who created a report recommending that U.S. colleges and universities take a more intentional, inclusive, and evidence-based approach to mentoring students in science, technology, engineering, mathematics, and medicine. She was the first African-American to achieve the rank of tenured full professor in the Department of Medicine. She is an elected Fellow of the American Psychological Association. In 2011, Dr. Byars-Winston was selected as a Champion of Change by the White House through President Obama's Winning the Future initiative for her research efforts to diversify science fields.
"Why I do what I do: Simply put, so that all may flourish."
Cynthia Carlsson, MD, MS
Professor, Geriatrics and Gerontology
Director, Wisconsin Alzheimer's Institute
Dr. Carlsson is an expert in the diagnosis and treatment of Alzheimer's disease and related dementias as well as clinical trials examining the efficacy of medications to treat and/or prevent these diseases. Her research focuses on early detection and prevention strategies for Alzheimer's disease. She serves on the U.S. Department of Health and Human Services (HHS) Advisory Council on Alzheimer's Research, Care, and Services, which makes recommendations to HHS for priority actions to expand, coordinate, and condense national programs in order to improve the health outcomes of people with Alzheimer's disease and related dementias.
"My interest in geriatric medicine and Alzheimer's disease stemmed from watching my grandmother struggle with dementia when I was a teenager. Watching my patients, research participants, and their families go through similar struggles motivates me to conduct research on early detection and prevention of dementia. I hope to help people protect their cognitive function so that they may continue to have good memories as they age and enjoy their lives to the fullest."
Molly Carnes, MD, MS
Professor, Geriatrics and Gerontology
Founder and Director, Center for Women's Health Research
Co-Director, Women in Science and Engineering Leadership Institute
Co-Director, Wisconsin Alliance for Minority Participation in the College of Engineering
Dr. Carnes' research focuses on how cultural stereotypes – however unintentionally – perpetuate inequities throughout science, engineering, and medicine. She is currently leading the National Institutes of Health funded Bias Reduction in Internal Medicine (BRIM) initiative to determine whether a workshop aimed at helping faculty "break the bias habit" is effective in promoting pro-diversity actions, improving department climate, and reducing burnout.
"As a physician, I am trained to diagnose and treat conditions that are impairing health. So, when I see inequity in whatever form it takes in academic medicine, science, and engineering; it just feels right that I should diagnose the problem and look for evidence-based treatments."
Carey Gleason, PhD
Associate Professor, Geriatrics and Gerontology
Core Leader, Inclusion of Under-Represented Groups Core at the Wisconsin Alzheimer's Disease Research Center
Dr. Gleason seeks to identify targets to modify risk for Alzheimer's disease in African Americans and Native Americans, groups traditionally under-represented in research. Through her partnerships in these communities, she established the Oneida Nation's Alzheimer's disease Community Advisory Board (CAB) and the Black Leaders for Brain Health. The work of the Oneida CAB was recognized with a UW-Community Partnership Award.
"I hope to contribute to the collective effort needed to build health equity. I love my job, and am grateful that I get to do work about which I am passionate."
Amy Kind, MD, PhD
Director, Department of Medicine Health Services and Care Research Program
Chair, Oversight and Advisory Committee, Wisconsin Partnership Program
Core Leader, Care Research Core at the Wisconsin Alzheimer's Disease Research Center
Core Co-Leader, Research Education Component at the Wisconsin Alzheimer's Disease Research Center
Associate Professor, Geriatrics and Gerontology
Dr. Kind leads a robust research program focused on health equity, the social determinants of health, neighborhood disadvantage and Alzheimer's Disease. She developed the Neighborhood Atlas, a first-of-its-kind online tool that quantifies socioeconomic disadvantage for every neighborhood in the U.S., including Puerto Rico. Her Atlas data have found widespread application in the U.S. House of Representatives, NIH, CDC, VA, DOD, HHS, AARP, health systems and industry. Her work has had far-reaching policy impact, has been actively promoted by the NIH and published in top journals including New England Journal of Medicine.
"Having grown up in an area of northern Wisconsin in which socioeconomic disadvantage was (and still is) commonplace, I am a firm believer in the profound impact poverty has on health. It is critical to the wellbeing of our country that we find new and better ways to improve health in these disadvantaged neighborhoods. Health equity research – including that to develop new therapies and interventions, to inform health policy, and to improve care delivery approaches– is fundamental to this goal. I became a doctor and a researcher to help directly address these issues. It is wonderful, rewarding work that aligns with my personal philosophies of service, compassion, fairness, team-based action and valuing diversity."
Ruth O'Regan, MD
Professor and Chief, Division of Hematology, Medical Oncology and Palliative Care
Associate Director, Clinical Research at University of Wisconsin Carbone Cancer Center
Dr. O'Regan holds multiple leadership positions, and is a leader in research on identifying mechanisms of resistance to breast-cancer therapies and development of new therapies. She also serves as the chief scientific officer of the Big Ten Cancer Research Consortium (Big Ten CRC) where she guides the research and scientific mission of the consortium and works closely with the Steering Committee and Clinical Trial Working Groups to identify and support the most promising clinical trials to be conducted through the consortium. She is also Vice-Chair of the National Comprehensive Cancer Network.
"My goal is to improve the outcome for patients with resistant breast cancers through translational and clinical research. We continue to lose way too many patients annually to this disease."
Nasia Safdar, MD, PhD
Professor, Infectious Disease
Vice Chair for Research, Department of Medicine
Dr. Safdar is a nationally recognized expert on infectious disease who has received a great deal of media visibility during the COVID-19 pandemic. Dr. Safdar's research broadly focuses on efficacy of novel interventions to prevent and reduce healthcare-associated infection, and has changed the paradigm for effective C. difficile prevention in many healthcare systems and has been incorporated into national guidelines. Dr. Safdar is the recipient of the Presidential Early Career Award from the Obama Administration, the Infectious Disease Society of America's (ISDA)'s 2019 Oswald Avery Award for Early Achievement, and the Association for Professionals in Infection Control's 2020 Distinguished Scientist Award.
"I like learning about and working on emerging infections because it's an opportunity for science to make a difference in human health."
Lynn Schnapp, MD
Chair, Department of Medicine
Dr. Schnapp is the first permanent female chair of our department. She also serves as the president-elect of the American Thoracic Society. She is known for her long-standing commitment to mentorship, career development and increasing the representation of women and underrepresented minorities in medicine and has received numerous awards for her mentoring work. In addition to her administrative roles, Dr Schnapp maintains an active research program focused on lung injury and repair and continues to attend in the MICU. Running and a healthy sense of humor helps keep her grounded.
"Throughout my career, mentoring has given me the greatest satisfaction. My goal as a leader is to motivate and inspire others to do more than they thought was possible."
Ann Sheehy, MD, MS
Associate Professor and Chief, Division of Hospital Medicine
Dr. Sheehy is an advocate for reform of Medicare observation status policy. She conducts health policy research in the area of short-stay hospitalizations, Medicare payment policy and outpatient observation hospital care, and has advised policy-makers at the federal level about the implications of observation status policy changes. Dr. Sheehy has testified before Congress, and has served an expert witness in federal a lawsuit on this matter with a goal to achieve Medicare beneficiary appeals rights when they are placed under observation.
"Medicare was created at a time when those over age 65 were the most likely demographic to be living in poverty, and approximately half lacked health insurance. I believe strongly in the Medicare program, but healthcare has changed greatly over the half-century since Medicare began. I am committed to helping improve this policy in whatever small way I can."
Elizabeth (Betsy) Trowbridge, MD FACP
Phillip August and Sarah Neely Herrmann Professor
Executive Vice Chair, Department of Medicine
Division Chief, General Internal Medicine
Dr. Trowbridge was the first faculty member appointed to the Phillip August and Sarah Neely Herrmann Professorship in General Internal Medicine, and was the first female chair of our department. She is a graduate fellow of the Hedwig van Ameringen Executive Leadership in Academic Medicine Program (ELAM) for Women. Dr. Trowbridge is a Fellow of the American College of Physicians and in 2017 received the WI chapter Helen Dickie Award for Outstanding Woman Physician. She has been instrumental in the primary care redesign effort at UW Health and developed an innovative population-based compensation model for primary care. She also co-founded the Primary care Academics Transforming Healthcare (PATH) collaborative, a multidisciplinary coalition of physician and health care change leaders at UW-Madison. She also serves on the Green Bay Packers Board of Directors.
"It has always been an honor and a privilege to serve the SMPH and the Department of Medicine. I do this work because I need a role that makes a difference in the world and in individuals. Taking care of patients, serving as a role model to others especially women, and changing the way we provide primary care are things I love that make a difference."