Michelle E. Kimple, PhD | Therapeutic Targets for Diabetes
Image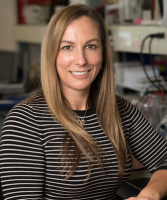 Michelle E. Kimple, PhD, leads a translational research team composed of trainees at all levels. The research focus of the Kimple Lab is understanding how the insulin-producing beta-cells of the pancreas respond to nutrients and hormones to function, multiply, and survive. Understanding the mechanisms behind these processes, and how they are affected in the pathophysiological conditions of type 1 and type 2 diabetes, is a critically important area of research.
Understanding the Pathways of Diabetes Pathogenesis
Dr. Kimple's research team is especially interested in elucidating how dysfunctional G protein-coupled receptor signaling pathways contribute to the pathogenesis of type 1 and type 2 diabetes.
The long-term goal of the Kimple Lab is to translate these insights into new and improved diabetes therapeutics, preventing or even curing these life-long diseases.
Above, research in the Kimple Lab has revealed a critical role of the the Gz-coupled EP3 receptor, which is activated by prostaglandin E2 (PGE2), in blocking the ability of the pancreatic beta-cell to secrete insulin into the bloodstream to control blood sugar levels.
When activated by PGE2, the Gz-coupled receptor also limits the ability of the beta-cell to replicate and survive in the face of the multiple insults its exposed to in the conditions of type 1 and type 2 diabetes.
Image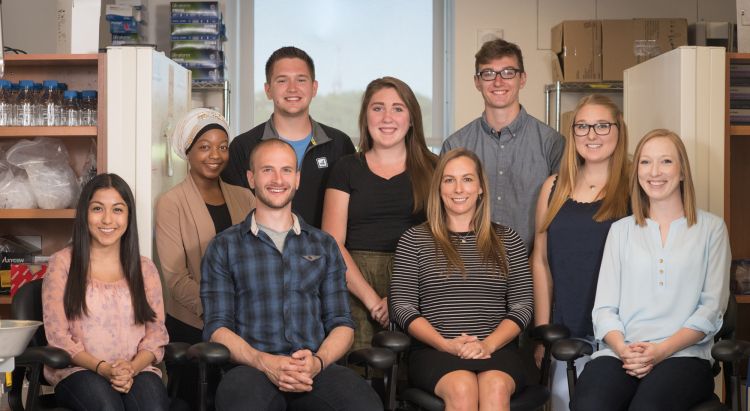 Undergraduate Students
Christopher Colwell
Amelia Bader
Krupa Patel
Publications
Schaid MD, Green CL, Peter DC, Gallagher SJ, Guthery E, Carbajal KA, Harrington JM, Kelly GM, Reuter A, Wehner ML, Brill AL, Neuman JC, Lamming DW, Kimple ME. Agonist-independent Gαz activity negatively regulates beta-cell compensation in a diet-induced obesity model of type 2 diabetes. J Biol Chem. 2021 Jan-Jun;296:100056. doi: 10.1074/jbc.RA120.015585. Epub 2020 Nov 24. PMID: 33172888; PMCID: PMC7948463.
Schaid MD, Zhu Y, Richardson NE, Patibandla C, Ong IM, Fenske RJ, Neuman JC, Guthery E, Reuter A, Sandhu HK, Fuller MH, Cox ED, Davis DB, Layden BT, Brasier AR, Lamming DW, Ge Y, Kimple ME. Systemic Metabolic Alterations Correlate with Islet-Level Prostaglandin E2 Production and Signaling Mechanisms That Predict β-Cell Dysfunction in a Mouse Model of Type 2 Diabetes. Metabolites. 2021 Jan 16;11(1):58. doi: 10.3390/metabo11010058. PMID: 33467110; PMCID: PMC7830513.
Truchan NA, Fenske RJ, Sandhu HK, Weeks AM, Patibandla C, Wancewicz B, Pabich S, Reuter A, Harrington JM, Brill AL, Peter DC, Nall R, Daniels M, Punt M, Kaiser CE, Cox ED, Ge Y, Davis DB, Kimple ME. Human Islet Expression Levels of Prostaglandin E2 Synthetic Enzymes, But Not Prostaglandin EP3 Receptor, Are Positively Correlated with Markers of β-Cell Function and Mass in Nondiabetic Obesity. ACS Pharmacol Transl Sci. 2021 Jun 16;4(4):1338-1348. doi: 10.1021/acsptsci.1c00045. PMID: 34423270; PMCID: PMC8369690.
View Dr. Michelle Kimple's publications on NCBI MyBibliography
Funding Support
Dr. Kimple's research is funded by the Department of Veterans Affairs, Juvenile Diabetes Research Association, and Department of Defense.