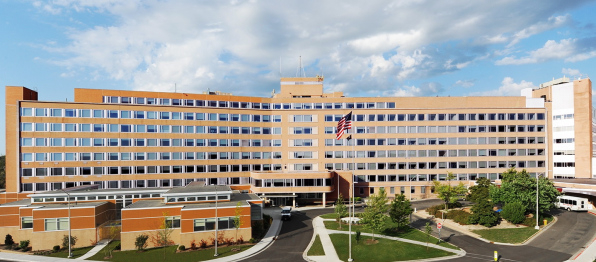 The William S. Middleton Memorial Veterans Hospital is a key clinical practice and training location for many Department of Medicine faculty members, residents, and fellows. The facility serves 130,000 Veterans living in 15 counties in south-central Wisconsin and in five counties in northwestern Illinois.
In late 2018, the hospital was recognized for clinical and workplace excellence by the U.S. Department of Veterans Affairs. Madison was listed as one of 18 VA medical centers (VAMCs) receiving a 5-star rating in the end of fiscal year 2018 hospital Star ratings, which evaluate and benchmark quality of care delivery in all 146 VAMCs across the nation.
"This ranking is based upon analytics data representing more than 325 measures," said Alan Bridges, MD, professor (CHS), Rheumatology and chief of staff at the Madison VA hospital.
The Madison site was rated 9th out of all VAMCs. Additionally, it was ranked:
2nd for best place to work
4th for mental health care
11th for patient satisfaction
15th for Healthcare Effectiveness Data and Information Set (HEDIS) measures
The hospital includes 85 acute care beds, 18 beds dedicated to a residential rehabilitation treatment program, and a community living center that provides an additional 26 beds for sub-acute transitional care, rehabilitation, and hospice care.
It is affiliated with the University of Wisconsin School of Medicine and Public Health (SMPH), and is physically connected to the University of Wisconsin Clinical Science Center which includes the UW Hospitals and Clinics.
Early-career internal medicine physicians (residents and fellows in medical specialties) practice at the Madison VA under the guidance of mentoring physicians. Since 2005, the VA has nearly doubled the number of funded trainee positions from 70 to 138, including 42 positions that were added in 2015 legislation that provided funding for graduate medical education. Funding has also been made available for 16 advanced fellow positions in key areas such geriatrics and women's health.
An active Office of Research is also located at the facility, and is led by associate chief of staff for research Nasia Safdar, MD, PhD, professor, Infectious Disease and vice-chair for research, Department of Medicine. In 2018, scientists affiliated with the research office were awarded funding from the VA for 15 scientific grants as well as an equipment grant for a Whole Body Phethysmography System. Additionally, the Madison site of the Million Veteran Program (MVP), which is a national, voluntary research program for Veterans to study how genes affect health, enrolled its 6,950th participant. Robert Striker, MD, PhD, associate professor, Infectious Disease, serves as principal investigator for the Madison site of this multi-site clinical study.
Resources: