Every research discovery starts somewhere. 
In the world of biomedical research, pilot projects are an essential first step in advancing new knowledge. They give investigators an opportunity to gather preliminary data and explore creative ideas that may lead to more robust grant support—and ultimately, outcomes that improve human health. 
In 2018, when David Andes, MD, professor and division chief, Infectious Disease, was named the inaugural Dr. William A. Craig Endowed Professor, he used funds from that professorship to create a program that supports those types of pilot projects.
In May 2019, three faculty from the University of Wisconsin–Madison Department of Medicine's Division of Infectious Disease were the first to receive William A. Craig Research Awards.
The awards provide up to $50,000 of "seed funding" for projects that focus on important clinical issues in infectious disease, demonstrate innovation and future impact, and are likely to lead to larger grants in the future.
"Each of these emerging investigators has great potential for a successful research career," reflects Dr. Andes. "Their work is timely and relevant, and I am grateful to have the opportunity to support them. It would not be possible without the Craig endowment."
"I know that Dr. Craig would have been honored by this initiative and by the work that's being done as part of his legacy," shares Judith Craig, Dr. William Craig's wife. "He always loved supporting research, especially from young investigators who are forging their own career path. He also would have been proud to see the breadth of important topics and the presence of female investigators among the winners."
Below, learn more about the award winners and their work.
Eradicating Fungal Infections From Medical Devices
Jeniel Nett, MD, PhD, assistant professor, Infectious Disease (pictured), is using her award to find new ways to eradicate fungal infections caused by indwelling medical devices, such as central lines, pacemakers or prostheses. 
Microorganisms that grow on those devices often form biofilms—encased, protective communities of cells—that resist the body's immune defenses and are extraordinarily difficult to kill. In some cases, the infected device must be removed in order to cure the infection, even in patients with healthy immune systems.
Normally, a type of white blood cell called a neutrophil plays a key role in eradicating fungal infections. But neutrophils are unable to kill biofilms formed by Candida albicans, the most common and invasive fungus. 
Dr. Nett's laboratory has identified specific host and fungal molecular components that may be impairing neutrophil function and thereby inhibiting the body's immune response. By investigating the interactions between those components, her team aims to uncover pathways that may serve as the foundation for future fungal infection treatment strategies.
Treating Polymicrobial Infections 
Lindsay Kalan, PhD, assistant professor, UW-Madison Department of Medical Microbiology and Immunology, and affiliate assistant professor, Infectious Disease, is using her award to better understand the molecular mechanisms of how, after a wound, skin cells respond to infections caused by both bacteria and fungi. 
Those mixed "polymicrobial" infections are more likely to occur in people with diabetes, and often lead to slow wound healing, tissue death and amputation. Yet, most research focuses on skin responses to "monomicrobial" infections. 
By gathering preliminary data on the interplay between skin cells and multiple types of microbes, Dr. Kalan hopes to lay the foundation for future research on biomarkers that could be the target of future wound healing therapies.
Preventing Surgical Site Infections for Hysterectomy Patients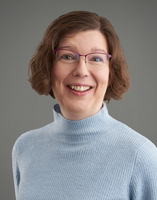 Aurora Pop-Vicas, MD, MPH, assistant professor (CHS), Infectious Disease (pictured), is using her award to determine the best antibiotic to prevent surgical site infections in patients undergoing hysterectomies. 
Surgical site infections are the most common and expensive hospital-acquired infections in the U.S. Typically, patients receive an antibiotic—most commonly cefazolin— before surgery to prevent them.
But Dr. Pop-Vicas hypothesizes that instead of cefazolin, other antibiotics with broader anti-anaerobic spectrum activity might be more effective against the common vaginal microorganisms found in women undergoing hysterectomies.
Using clinical data from approximately 4,000 women who underwent hysterectomies over 10 years at a tertiary care hospital, her team will compare cefazolin versus other preoperative antibiotics in terms of their incidence of surgical site infections and C. difficile infection, a potential side effect of preventive antibiotic use. 
If cefazolin is found to be inferior to other antibiotics for surgical site infection prevention in hysterectomy, it will provide important preliminary data for future clinical trials and potentially, revised clinical practice guidelines. 
Resources: