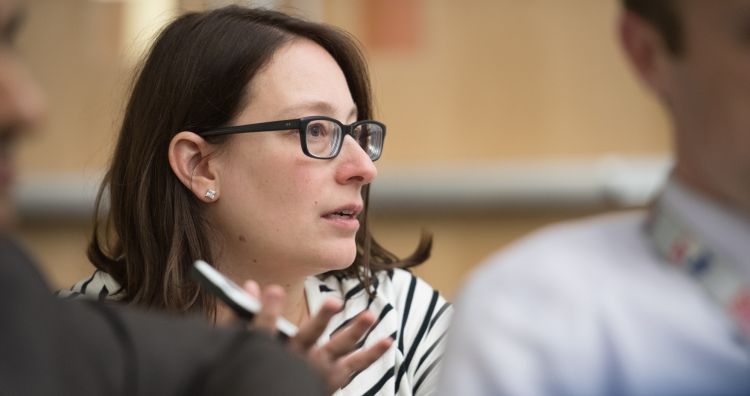 Researchers at the Department of Medicine and UW Carbone Cancer Center are working to understand why some primary care clinics in rural locations have successfully attained high rates of colorectal cancer screenings, insight they hope will help raise the rates of colorectal cancer screenings across all rural clinics.
This research will be a four-year endeavor funded by a $1.2 million grant from the American Cancer Society and will be done in partnership with the Wisconsin Collaborative for Healthcare Quality. This grant is just one of 42 new research grants funded by the American Cancer Society nationwide totaling $33.8M this year.
Researchers will be surveying, touring and interviewing personnel at more than 200 rural primary care clinics in the upper Midwest to first identify which clinics are attaining high rates of colorectal cancer screenings, and which clinics have lower completion rates. Researchers say early data shows high-performing clinics have successfully screened 80% or more of their eligible patients, which is a commendable achievement. They will analyze the high-performing clinics to identify common strategies, best practices and other factors to share those successful tactics in the hopes of raising colorectal screenings across the Midwest and in rural clinics. They also want to identify barriers to screening that patients face in rural areas.
"While some primary care clinics have fantastic rates for colorectal cancer screenings, others do not," said Jennifer Weiss, MD, MS, associate professor, Gastroenterology and Hepatology, and lead researcher in this study. "If we can find out why some clinics are so successful at getting patients screened, that information is much more valuable to other rural clinics than just using the tactics hospitals in urban areas use to screen patients living in cities."
According to the 2020 Wisconsin Health Disparities Report: Rural and Urban Populations, people living in rural underserved areas experienced substantial disparities in colorectal cancer screening. There is also evidence that people living in rural areas are more likely to get colorectal cancer and to die from it, according to Weiss.
Colorectal cancer is the second most common cancer for Wisconsinites, according to the Wisconsin Cancer Collaborative. Colorectal cancer is the third leading cause of cancer death in the United States, but it is one of the only preventable cancers. Preventing colorectal cancer starts with screening at-risk people at the right time. Unfortunately, screenings have decreased during the pandemic. The National Cancer Institute predicts almost 10,000 excess deaths from breast and colorectal cancer alone over the next 10 years because of pandemic-related delays in cancer screening and treatment.
It's likely even more people will become eligible for colorectal cancer screenings during the course of this research, as the United States Preventive Services Taskforce and American Cancer Society recommend colon cancer screenings begin at age 45 instead of 50.
Author, Sara Benzel, UW Health
Banner photo, Jennifer Weiss, MD, MS, lead researcher in this study. Credit: Clint Thayer/Department of Medicine