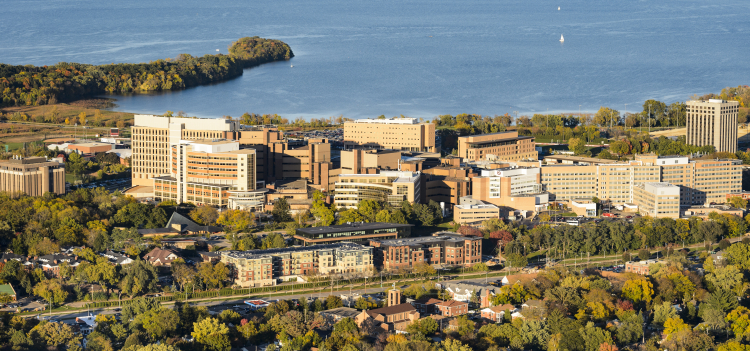 For the 11th consecutive year, U.S. News & World Report ranked University of Wisconsin Hospitals, which includes University Hospital and UW Health East Madison Hospital, as No. 1 in Wisconsin on its Best Hospitals list.
This achievement reflects the remarkable care provided by physicians and staff, as well as UW Health's national leadership in high-quality care and innovative medicine, according to Peter Newcomer, MD, chief clinical officer, UW Health, and clinical professor, General Internal Medicine.
U.S. News & World Report surveyed more than 5,000 hospitals as part of their rankings. In addition to the No. 1 ranking in Wisconsin, University of Wisconsin Hospitals saw four medical and surgical specialties ranked among the best in the nation: Gastroenterology and GI surgery (#42), geriatrics (#35), obstetrics and gynecology (#14) and orthopedics (#14). Obstetrics and gynecology was ranked among the top 15 in the nation.
Five additional medical and surgical specialties were rated as high performing: Cancer, cardiology and heart surgery, neurology and neurosurgery, pulmonary and lung surgery and urology.
University of Wisconsin Hospitals also received U.S. News's highest rating for 18 procedures and conditions, including abdominal aortic aneurysm repair, aortic valve surgery, back surgery, chronic obstructive pulmonary disease, colon cancer surgery, diabetes, heart attack, heart bypass surgery, heart failure, hip fracture, hip replacement, kidney failure, knee replacement, lung cancer surgery, ovarian cancer surgery, prostate cancer surgery, stroke and uterine cancer surgery.
"These rankings show UW Health continues to be the premier health system to care for all of our patients' diverse and complex needs," Newcomer said. "We are proud to continue to be ranked as the top hospitals in Wisconsin and will continue to provide the highest quality care to the people of Wisconsin, Illinois and beyond."