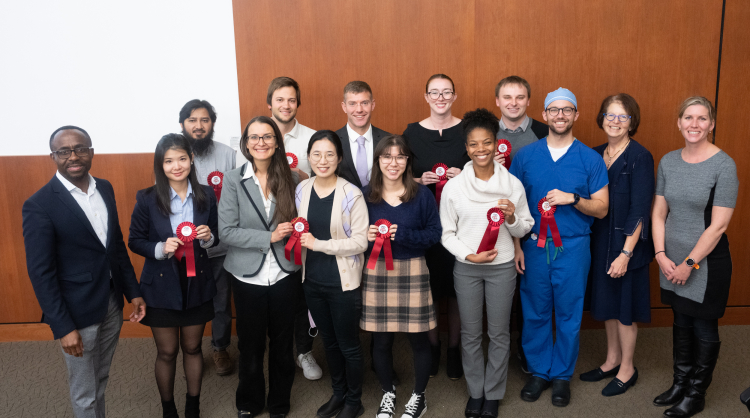 After a two-year hiatus due to the COVID-19 pandemic, the Department of Medicine's annual Research Day made a triumphant return on October 28, 2022. 
The day-long event, held at the Health Sciences Learning Center, brought together a record 400 participants at various stages in their careers—from trainees and learners to senior faculty and staff—for a multidisciplinary celebration of DOM research.
Presentations, Posters, Awards and a String Quartet
The day began with Grand Rounds featuring Sid O'Bryant, PhD, executive director of the Institute for Translational Research, University of North Texas Health Science Center, who challenged conventional notions of Alzheimer's disease. 
More presentations by department trainees, research staff, and faculty followed. Jon Odorico, MD, FACS, FAST, director, Pancreas and Islet Cell Transplantation Programs, and professor, Division of Transplantation, UW Department of Surgery, delivered a keynote on stem cell-derived islets.
At the heart of Research Day was a display of nearly 100 posters highlighting the research done in divisions across the department. Eleven posters were honored in four categories (basic science, clinical, translational, and health services) by rank (junior faculty; research staff, researchers and scientists; and trainees). The lead researchers for these posters received red ribbons and funds for professional development and research expenses.
"One of the many highlights [for me] was having a 'front-row seat' to witnessing the pure joy and excitement on the faces of the award winners, especially the trainees," says event chair Ozioma Okonkwo, PhD, associate professor, Geriatrics and Gerontology.
View the complete list of poster session winners.
Four additional awards were presented to faculty:
Meghan Brennan, MD, MS, Infectious Disease, received the Outstanding Junior Faculty Research Award 
Jane Churpek, MD, MS, Hematology, Medical Oncology, and Palliative Care, received the Junior Faculty Excellence in Research Mentoring Award
Rozalyn Anderson, PhD, Geriatrics and Gerontology, received the Outstanding Senior Faculty Research Award 
Christie Bartels, MD, MS, Rheumatology, received the Senior Faculty Excellence in Research Mentoring Award
The day closed out with a well-attended networking session accompanied by a performance from the Pecatonica String Quartet of Madison.
"Thanks to the hard work and dedication of numerous individuals who gave selflessly of their time, the event exceeded expectations," concludes Dr. Okonkwo. "I'm very grateful for the opportunity to partner with such terrific colleagues in the department and beyond!"
Banner image: the 2022 poster award winners. Back row, left-to-right: Md Shahadat Hossan, PhD; Christian Elliehausen, MS; Philip Zimmermann, MD; Adrienne Johnson, PhD; Jonathon Leja, MD. Front row, left-to-right: Ozioma Okonwko, PhD; Yanjun Gao, PhD; Ksenija Bernau, PhD; Hye Jin Lee, PharmD; Ivy McDermott, BS; Cibele Barbosa Carroll, MD, MPH; Matthew Martini, MD; Lynn Schnapp, MD; Elizabeth Townsend, MD, PhD. 
All photo credit: Clint Thayer/Department of Medicine.