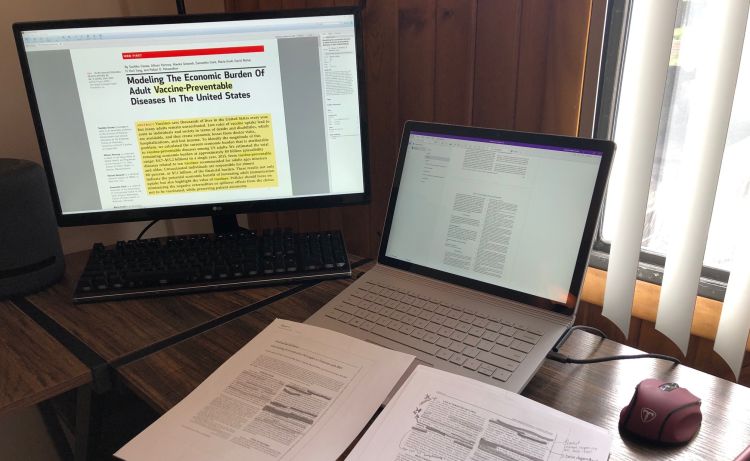 This summer, 39 University of Wisconsin School of Medicine and Public Health (UWSMPH) students were paired with 26 Department of Medicine faculty member mentors in the Shapiro Summer Research Program. The program is for UWSMPH medical students between their first and second year, and is eight to 10 weeks long. Research projects span a broad range of scientific investigation, including basic science, clinical, translational, health services, global health, public health, quality improvement and medical ethics. 
The beginning to this year's program looked a bit different from past years as students and faculty scrambled to adapt to the new working conditions forced by the COVID-19 pandemic. Each pairing found ways to adjust to working remotely, and some students even changed their projects entirely.
Below are project descriptions and insights from some faculty and student pairings.
Statistical Analysis of Sjogren's Syndrome Patients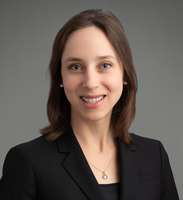 Medical student Noah Maerz, with Sara McCoy, MD, assistant professor, Rheumatology, (pictured at right) analyzed a survey performed by the Sjӧgren's Foundation on Sjӧgren's Syndrome patients that inquired about symptoms, signs, cost, and quality of life. The project, "Characterizing Symptoms, Signs, Cost and Quality of Life amongst Sjӧgren's Foundation Survey Respondents," gave Maerz the opportunity to practice statistical analysis and data presentation through weekly online meetings.
"As my first experience working with Shapiro scholars, I was delighted by Noah's adaptability and interest in the project topic despite the need to change project topics on short notice," McCoy said.
Above, Sara McCoy, MD, assistant professor, Rheumatology, and her mentee, Noah Maerz, during a WebEx meeting.
Evaluating Circulating Tumor Cells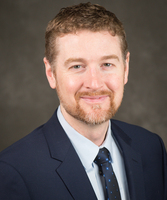 Rory Bade and Josh Lang, MD, MS, associate professor, Hematology, Medical Oncology and Palliative Care, (pictured at right) focused on developing a blood-based test to evaluate and predict therapeutic response in patients with renal cell carcinoma (RCC). With an increasing number of treatment choices for RCC, there is a significant need for the development of biomarkers that can predict response to these new agents. 
Bade has enjoyed the opportunity to be a part of the Shapiro Summer Research Program. "Working on the frontier of innovation has been a great experience. But to do so in an area that has the potential to directly improve patient care is a true privilege and incredibly rewarding," he said.
Above, Rory Bade at his remote work space.
Data Analysis of Immunization Disparities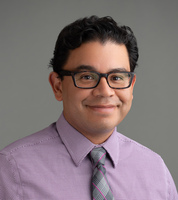 Hispanic/Latino adults with inflammatory bowel disease (IBD) have lower rates of influenza and pneumococcal vaccinations compared to non-Hispanic/Latino adults with IBD. Medical student Antonio Medina Huerta, with mentor Freddy Caldera, DO, associate professor, Gastroenterology and Hepatology, (pictured at right) studied the extent and cause of these immunization disparities. While this was not the original plan for their project, Huerta said there was a silver lining.
"We could use resources and data we already had to highlight disparities that could affect Hispanic patients with IBD in receiving vaccine treatment for COVID-19, if and when a vaccine becomes available," he said.
Dr. Caldera was pleased with how the project went, and was happy to work with Huerta. "I enjoyed not only introducing him to clinical research but also providing him with career advice. I look forward to continue to mentor him throughout his medical school career," Caldera said.
Exploring Relationships Between Marital Status, Sex, Race/Ethnicity and Dementia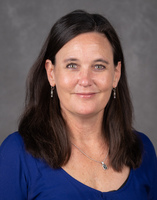 Rebekah Carrizales and Carey Gleason, PhD, associate professor, Geriatrics and Gerontology, (pictured at right) also had to make a few pivots in their research plans in response to the COVID-19 pandemic.
They refocused their plans, and were able to create a hypothesis on the associations between marital status, sex, race/ethnicity, and dementia. They found that individuals who are widowed, divorced/separated, or never married experienced dementia later in life than those who are married, or living as married.
Carrizales said she and Dr. Gleason had more one-on-one meetings than they anticipated needing, but emphasized the importance of being able to adapt to obstacles.
"The dynamic flow of hypothesis generation and other aspects of the scientific method in the environment of a global pandemic reinforced the necessities of flexibility and collaborative communication amongst researchers," Carrizales said.
This Year's Department of Medicine Pairings
Beyann Alzoubi (mentored by Sandesh Parajuli, MD, assistant professor, Nephrology): Incidence, Risk Factors, and Outcomes of Post-Transplant Erythrocytosis After Kidney Transplantation
Rachel Anderson (mentored by Dudley Lamming, PhD, associate professor, Endocrinology, Diabetes and Metabolism): Defining the Relationship Between Methionine Intake, Obesity, and Health Outcomes in Wisconsin Residents
Rory Bade (mentored by Josh Lang, MD, MS, associate professor, Hematology, Medical Oncology and Palliative Care): Evaluating Circulating Tumor Cells as a Predictive and Pharmacodynamic Biomarker in Patients with Clear Cell Renal Cell Carcinoma
Abigail Boeck (mentored by Ryan Westergaard, MD, PhD, MPH, associate professor, Infectious Disease): Hepatitis C Continuum of Care at UW Health
William Bull (mentored by Ryan Westergaard, MD, PhD, MPH, associate professor, Infectious Disease): Qualitative Analysis of the Barriers Leading to Underutilization of Primary Care by People Who Inject Drugs in Rural Wisconsin
Rebekah Carrizales (mentored by Carey Gleason, PhD, associate professor, Geriatrics and Gerontology): Dementia Identification Within the Oneida Nation of Wisconsin
Rebecca Case (mentored by Ryan Westergaard, MD, PhD, MPH, associate professor, Infectious Disease): Evaluation of Wisconsin's Public Health Threat Communication System
Leah Cha (mentored by Amye Tevaarwerk, MD, associate professor, Hematology, Medical Oncology and Palliative Care): Symptoms Reported and Services Needed by Breast Cancer Patients Seen For a Survivorship Care Planning Visit
Brady Dangelser (mentored by Gauri Bhutani, MD, clinical assistant professor, Nephrology): Investigating Novel Clinical Associations in Polycystic Kidney Disease
Claire De Forcrand De Coiselet (mentored by Alexis Eastman, MD, clinical assistant professor, Geriatrics and Gerontology): Primary Palliative Care Education, Training, and Technical Support for Emergency Medicine (PRIM-ER)
Kami Elzinga (mentored by Molly Carnes, MD, MS, professor, Geriatrics and Gerontology): Bias Reduction in Internal Medicine (BRIM)
Alma Farooque (mentored by Priyanka Pophali, MD, assistant professor, Hematology, Medical Oncology and Palliative Care): Cardiovascular Screening and Outcomes in Adolescents and Young Adults treated for Lymphoma at the University of Wisconsin
Ryan Fuglestad (mentored by Dawd Siraj, MD, MPH, professor, Infectious Disease): Defining Barriers and Facilitators to Obtaining Laboratory Cultures at Jimma University Specialized Hospital: A Qualitative Study
Emily Hoyer (mentored by Laura Maursetter, DO, associate professor, Nephrology): Utilizing Quality Improvement to Enhance Blood Pressure Control in CKD Patients
Uyi Imasuen (mentored by Gauri Bhutani, MD, clinical assistant professor, Nephrology):  Investigating Novel Clinical Associations in Polycystic Kidney Disease
Mallory Jasicki (mentored by Jeniel Nett, MD, PhD, associate professor, Infectious Disease): Characterization of Rare Neutrophils Which Phagocytize Candida auris
Abish Kharel (mentored by Sandesh Parajuli, MD, assistant professor, Nephrology): Risk Factors for Detrimental Progression in Kidney Transplant Recipients with BK Viremia 
Tyler Kowalczyk (mentored by Amish Raval, MD, associate professor, Cardiovascular Medicine): Systematic Review: In Vivo Methods of Cell-labeling For Cardiovascular Regenerative Medicine
Meghna Kurup (mentored by Tripti Singh, MD, assistant professor, Nephrology): Utility of Second Kidney Biopsy in Patients With Lupus Nephritis
Calvin Lam (mentored by Nicole Pulia, PhD, assistant professor, Geriatrics and Gerontology): Swallowing Impairment and Treatment Profiles in Patients with Dementia as Compared to Non-Dementia Cohort
Julia Loosen (mentored by Amy Kind, MD, PhD, associate professor, Geriatrics and Gerontology): Practical Approaches to Recruitment and Retention of Subjects with Dementia in a Transitional Care Randomized Control Trial
Rebecca Luoh (mentored by Amye Tevaarwerk, MD, associate professor, Hematology, Medical Oncology and Palliative Care): Assessment of MyChart Patient Health Portal Usage Among Cancer Patients
Noah Maerz (mentored by Sara McCoy, MD, assistant professor, Rheumatology): Characterizing Symptoms, Signs, Cost and Quality of Life amongst Sjӧgren's Foundation Survey Respondents
Mario Matabele (mentored by Nicole Pulia, PhD, assistant professor, Geriatrics and Gerontology): The Oral Microbiome Project
Ana McCracken (mentored by Amish Raval, MD, associate professor, Cardiovascular Medicine): Systematic Review: Phenotypic Expression of Human Cardiac Fibroblasts in Health and Disease
Antonio Medina Huerta (mentored by Freddy Caldera, DO, associate professor, Gastroenterology and Hepatology): Immunization Rate Disparities Among Hispanic/Latino Patients with Inflammatory Bowel Disease
Harshitha Venkata Nirmala Mogallapalli (mentored by Maha Mohamed, MD, associate professor, Nephrology): Belatacept vs CNI Impact Among Kidney Transplant Recipients with Right Sided Congestive Heart Failure: Allograft and Recipients' Survival Outcome
Tung Huu Nguyen (mentored by Nasia Safdar, MD, PhD, Infectious Disease): Cross-sectional Analysis on Vitamin B Complex Dietary Intake and the Presence of Multidrug Resistant Bacteria in Wisconsin Residents' Microbiota
Andrea Nino De Guzman Ramirez (mentored by Narjust Duma, MD, assistant professor, Hematology, Medical Oncology and Palliative Care): Diversity and Inclusion Questionnaire
Rebecca Nye (mentored by (mentored by Tripti Singh, MD, assistant professor, Nephrology): Use of Anticoagulation and Outcomes in Lupus Nephritis With Thrombotic Microangiopathy
Annalise Panthofer (mentored by Neetika Garg, MD, assistant professor, Nephrology): Association Between Hypomagnesemia and Mortality in Kidney Transplant Recipients
Alec Perrera (mentored by Gauri Bhutani, MD, clinical assistant professor, Nephrology): Renal Outcomes and Prognostic Factors in Patients on Immune Checkpoint Inhibitors
Jalin Roberson (mentored by Hector Valdivia, MD, PhD, professor, Cardiovascular Medicine): Molecular Basis of Calcium-dependent Arrhythmia
Emily Schmitz (mentored by Nasia Safdar, MD, PhD, Infectious Disease): Assessment of Healthcare Organizations Response to COVID-19
Grace Shea (mentored by Amanda Parkes, MD, assistant professor, Hematology, Medical Oncology and Palliative Care): Assessing Care of Adolescents and Young Adults with Cancer at the University of Wisconsin
Grigor Simitian (mentored by David Kosoff, MD, assistant professor, Hematology, Medical Oncology and Palliative Care): A Novel Protocol for the Stimulation of Angiogenesis in a Microscale Cell Culture Platform
Megan Walusiak (mentored by Amish Raval, MD, associate professor, Cardiovascular Medicine): The Effect of ECG Transmission Method and Display Size on ST-Elevation Myocardial Infarction Diagnosis
Joshua Wilke (mentored by Ryan Westergaard, MD, PhD, MPH, associate professor, Infectious Disease): The Effects of Stigma Associated With Opioid Use Disorder on Utilization of Healthcare and Public Health Resources.
Miguel Woodham (mentored by Sara McCoy, MD, assistant professor, Rheumatology): Four Distinct Symptom-Based Clusters Identified from the Sjӧgren's Foundation Survey