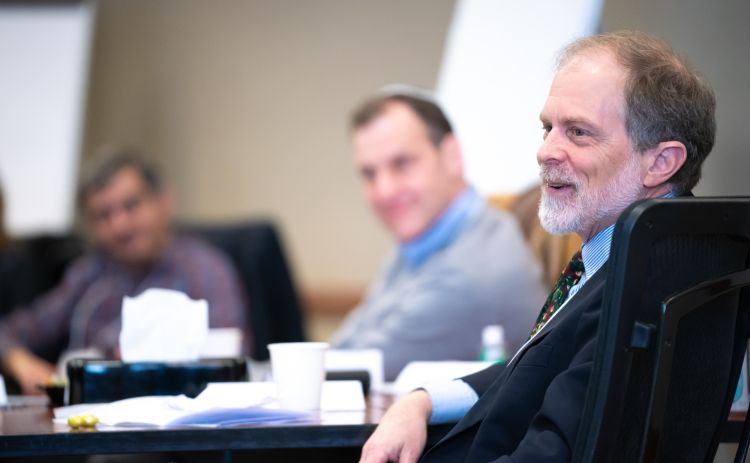 The University of Wisconsin Department of Medicine is proud to honor Kevin McKown, MD, professor (CHS) and division head, Rheumatology, who is retiring on July 1, 2020, after 20 years of service.
UW–Madison Chancellor Rebecca Blank has approved conferral of emeritus status on Dr. McKown.
Dr. McKown joined the department in 2000 and served as medical director of the UW Health Rheumatology Clinic from 2001 until 2005. Patients have consistently valued his clinical acumen and compassionate manner, and peers have named him to the "Best Doctors in America" list and Madison Magazine's peer-nominated "Top Docs in Madison" list multiple times.
He has led several clinical trials to evaluate treatments for several types of rheumatic disorders, and collaborated with the national Scleroderma Clinical Trials Consortium to publish practice-changing studies for the treatment of scleroderma.
Dr. McKown's accomplishments as an educator have been particularly remarkable. He co-directed the Medicine clerkships for third- and fourth-year UW School of Medicine and Public Health students for 13 years, and directed the department's rheumatology fellowship for 19 years.
In recognition of his teaching skills and positive impact on learners, the department recognized him with its Graham-Meyer Teaching Award for excellence in teaching residents and fellows in the ambulatory setting in 2006, and its Schilling Harkness Teaching Award for excellence in educating medical students in 2013.
In 2007, he received a UW School of Medicine and Public Health Dean's Teaching Award in honor of his outstanding contributions in student education in medical school programs.
We are so grateful to Dr. McKown for his leadership and for his commitment to improve people's lives through the highest-quality patient care, medical education and research. During a virtual celebration, the department presented him with a gift of a memorial bench to be placed in the Pheasant Branch Conservancy, Pedestrian Segment C (NE) later this summer.
Below, enjoy Dr. McKown's reflections on his accomplishments and highlights during his time in the department.                                              
During Your Time in the Department of Medicine, What Would You Consider Your Most Significant Accomplishments?
I feel that I've led the division through a period of growth and development. We're better at delivering clinical care; we have more robust education programs; and through recruitment, sponsorship and empowerment, division researchers have an environment they can really flourish in.
I also take a lot of satisfaction in the part I've played in rheumatology education through working with national organizations such as the American College of Rheumatology, the American Board of Internal Medicine and the Accreditation Council for Graduate Medical Education.
What Have Been the most Personally Gratifying Aspects of Your Work?
I enjoy working with learners at all stages, but particularly find training fellows to be satisfying. We take these wonderful internists and turn them into wonderful rheumatologists. It's a pleasure to be part of that process.
I have patients I've seen for 20 years and some of them have been through some very tough times. To be able to help them through that and see them leading happy, meaningful lives is really a joy.
Being a member of this department and the medical school has really been the highlight of my professional career. It's just an amazing environment and culture. People are smart, but there's also incredible collaboration. It's a very caring environment and people really look out for each other.
Any Particularly Fond Memories?
I think about a person who had multiple relapses of illness, including ICU stays, and has come through and has beautiful children and a happy home life and career. It's very satisfying to have played some role in helping a person achieve that life.
One of the things that attracted me to rheumatology is the intellectual puzzle. That's something I still find attractive, but over time, it's also the people that you've cared for over the years, developed relationships with and helped through difficult times.
What Are You Looking Forward to Next?
I'm looking forward to spending more time outdoors and with my family. I also hope to do more volunteer activities around prairie restoration and trail building on the Ice Age trail.
While I'll be mostly retired, I do hope to come back and contribute to the department in some smaller ways around education and patient care.
Banner photo: Dr. Kevin McKown (on right) at a Department of Medicine leadership retreat in March 2020. Credit: Clint Thayer/Department of Medicine