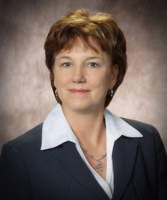 The Department of Medicine is proud to honor Sharon L. Haase, MD, MACP, clinical professor, General Internal Medicine, who will retire on December 1, 2021.
In 1988, she set up a solo practice in comprehensive internal medicine in Beaver Dam, the city where she was born, raised and spent her entire medical career. She joined the UW adjunct faculty as head of the local preceptorship program in 1989, where she began her work in medical education teaching UW senior medical students for over 33 years. In 1992, she officially joined UW Hospitals and Clinics its first community clinic. In 1995, her clinic was incorporated into the UW Medical Foundation, at which time she became an official member of the UW Department of Medicine.
During your time in the Department of Medicine, what would you consider your most significant accomplishments?
Throughout my career, I served as the Chair of most hospital departments and chaired the Cardiopulmonary Department until retirement. During my time as Chief of Staff, the hospital achieved Top 10 Hospital status. I also served on the Hospital Board for 10 years, during which time the new community hospital was built. For over 25 years, I have served on the Hospital's Foundation Board and continue to serve as an officer on its Executive Committee.
I am especially proud to have received a Citation from the Wisconsin Legislature for excellence in Medical Care and Education in the State of Wisconsin, as well as being elected as the first female Governor of the Wisconsin Chapter of the American College of Physicians. Also, achieving the rare distinction of being honored as a "Master" in the ACP was singularly the pinnacle of my professional career.
Serving my community as a medical leader has always been a priority to me. I started and directed the Dodge County "Heart-to-Heart" support group and served on the local UW research "Beaver Dam Eye Study" board.
What have been the most personally gratifying aspects of your work?
The most gratifying aspects of my work are teaching generations of senior medical students and having a positive impact on the quality of medical care in my community.
What are you looking forward to in retirement?
I look forward to spending more time with my family and hope to expand the scope and activities of the "E-Club for Kidz" that I founded. I also plan to do more gardening and community volunteer work. I want to continue making a difference in the lives of others.
Any particularly fond memories?
I remember all too well in the earlier years, being the only doctor in attendance, having to save lives. One of my fondest moments sums up the appreciation that my community has shown me in return. One Christmas Eve Mass, with the Church over-filled, I arrived late to join my family standing along the wall halfway down a side aisle. A hunched over, elderly man, with hat in hand, stood to take my place, so that I could sit and kneel. I had resuscitated his wife and would be discharging her on Christmas Day. As I tried to decline, all eyes were on me, even the Priest's. The man quietly said, 'she's all I have.' I took his seat to acknowledge his gratitude.