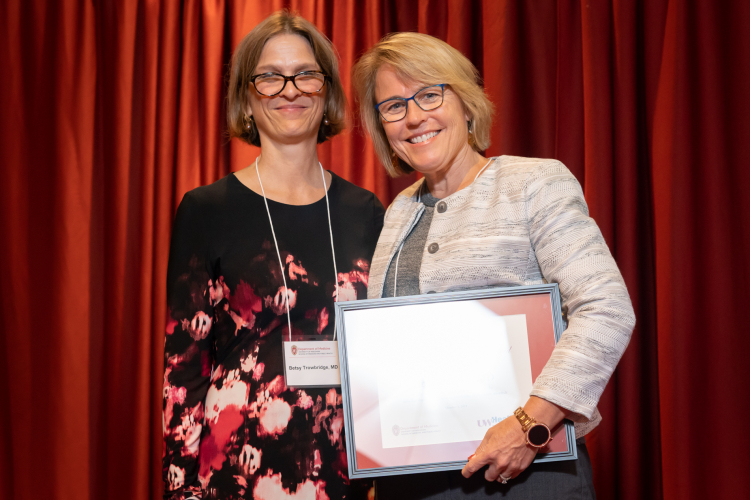 The Department of Medicine is proud to honor Ann Schmidt, MD, clinical professor, General Internal Medicine, who will retire on July 22, 2022. 
Dr. Schmidt joined the Department of Medicine in 1990. She is a member of the Association of Chiefs in Internal Medicine, was an original member and subsequent chair of UW Health's professional conduct committee, and is a two-time recipient of the UW Health Patient Physician Champion award.
During your time in the Department of Medicine, what would you consider your most significant accomplishments?  
Providing primary care for 32 years has been my greatest joy. Also providing leadership from the clinic level to interim division head was a huge honor for me. Receiving the Grossman Professionalism award and American College of Physicians 2019 Distinguished Internist of the Year award was the highlight of my career.  
What have been the most personally gratifying aspects of your work?
Primary care is all about caring for the whole patient and I love that. Having conversations with patients, offering them support as well as medications to make a difference in their life…that is the most gratifying part of my career. 
Any particularly fond memories? 
I have amazing memories from working at West Towne…all my dear friends that worked with me from reception, X-ray, lab, support staff and providers. I was blessed to only have 3 MAs work for me over the 32 years of practice: Beth Eastwood, Liz Dahl and Sue Franson. 
What are you looking forward to in retirement?
I am looking forward to seeing my kids more often and doing some travel. I love to play the ukulele and now will be able to play at more events. Also looking forward to becoming more involved in church. I love the outdoors and will not miss sitting in front of a computer. 
Banner photo: File photo of Division of General Internal Medicine chief Betsy Trowbridge, MD, on left, with Dr. Schmidt at a 2018 Department of Medicine awards ceremony. Credit: Clint Thayer/Department of Medicine