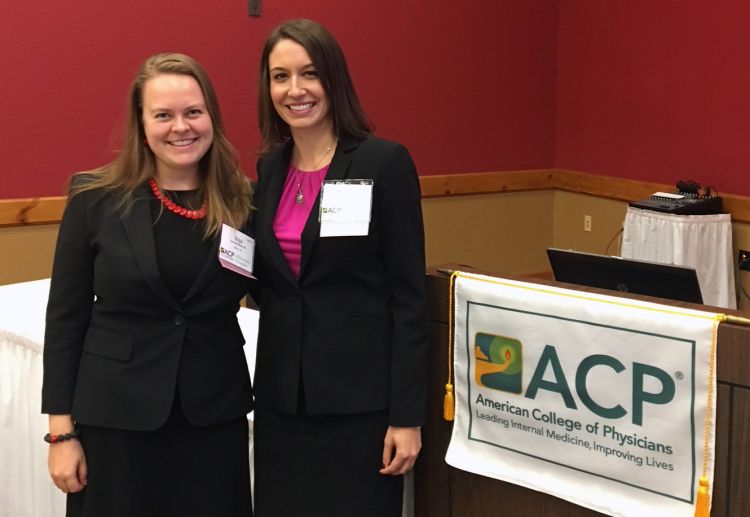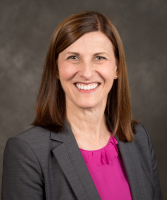 Photo (above): Inga Melvinsdottir, MD (left) and Lauren Banaszak, MD (right) were among residents from UW-Madison who presented at the 2018 Wisconsin ACP conference. Photo courtesy of Dr. Sean O'Neill.
---
An annual tradition of excellence by UW Internal Medicine residents at the Wisconsin American College of Physicians (ACP) Scientific Meeting continued with the 2018 conference in the Wisconsin Dells on September 14-15.
Second-year internal medicine resident Lauren Banaszak, MD, was awarded first place in the resident oral vignette competition for her presentation entitled, "An Atypical Case of Acute Renal Failure." Also representing UW-Madison were third-year resident Inga Melvinsdottir, MD, who presented "Pembrolzumab-Induced Myocarditis," and fourth-year MD student Max Rusek, who presented "Hypercalcemia Due to PJP Pneumonia."
Sean O'Neill, MD, clinical assistant professor, Hospital Medicine, mentored UW students and trainees during the conference. Dr. O'Neill serves as physician lead for UW's main teaching ward and co-chairs the ward's quality improvement steering committee as well as the ACP-Wisconsin Hospitalist Committee, among others.
Eleven residents presented posters at the conference:
Lauren Banaszak, MD presented "Hemoptysis, Hoarseness, and Horner Syndrome"
Talar Kharadjian, MD presented "Iatrogenic Cellulitis from Pneumococcal Vaccination: Raising the Question of Arthus Reaction"
Dev Patel, MD presented "Monoplegia with West Nile Encephalitis"
Alex Hristov, MD presented "Painless Purple Plaques, an Initial Presentation of Kaposi Sarcoma"
David Pierce, MD presented "Drug-induced Eosinophilic Pneumonia Related to Intravenous Daptomycin Therapy"
Dylan Stanfield, MD presented "Generalized Weakness in a Young Female"
Victoria Gillet, MD presented "Patient-directed Cryotherapy as a Cause of Peripheral Neuropathy"
Zachary York, MD presented "Epstein-Barr Virus-Mediated Cold Agglutinin Disease, Hemorrhagic Gastritis, and Hepatitis"
Callie Plafkin, MD presented "Pneumococcal Myotic Aortic Aneurysm: An Unlikely Cause of Abdominal Pain"
Drs. Banaszak, Hristov, and Stanfield also participated as a team in the Medical Jeopardy Competition.
This year's conference also honored Christine Seibert, MD, (pictured at upper right), professor (CHS) and associate dean for medical student education and services at the University of Wisconsin School of Medicine and Public Health. Dr. Seibert was named Helen Dickie Woman Physician of the Year. The award memorializes former Department of Medicine faculty member Dr. Helen Dickie (1913-1988), a nationally recognized pulmonologist who was a pioneer in the detection and treatment of tuberculosis and other pulmonary diseases.
Dr. Seibert is deeply involved in medical student, resident teaching, and faculty development at the UW School of Medicine and Public Health. She holds administrative leadership responsibilities in the areas of admissions, curriculum and student services, and led an expansive curriculum transformation process to integrate public health training into the MD curriculum as well an ambitious transition to the ForWard Curriculum. She has been principal investigator on several large educational awards, including a $2.4 million, three-year grant focused on creating and enhancing curricular opportunities in community engagement, advocacy and health systems improvement for medical students.
In addition to presentations by residents, two faculty members from the department presented lectures at the conference. Ravi Dhingra, MD, MPH, assistant professor (CHS), Cardiovascular Medicine, presented a talk on heart failure, and Muhammad Munir, MD, clinical assistant professor, Hospital Medicine, discussed how to engage in quality improvement (QI) projects in health care organizations.
"It's truly an honor to help students and trainees prepare for this conference, and to see them present their work and connect with colleagues," said Dr. O'Neill. "I'm grateful the state-wide community of ACP members who help guide the next generation of physicians."