The University of Wisconsin Department of Medicine is honored to welcome Lynn M. Schnapp, MD, ATSF, pictured above, as the George R. and Elaine Love Professor and its ninth chair.
Dr. Schnapp joined the department on March 1, 2020, after serving as a professor and chief of the Division of Pulmonary, Critical Care, Allergy and Sleep Medicine at the Medical University of South Carolina.
A pulmonologist and leading researcher on lung injury and repair, Dr. Schnapp is also an active leader in mentoring the next generation of physicians and researchers and increasing the representation of women and minorities in medicine. 
Learn more about Dr. Schnapp's vision and interests in the Q&A below.
1. What do you think is most impressive about our department and our broader academic environment?
First and foremost, I've been so impressed with the warm and welcoming vibe from everyone I have met. Of course, the excellence and commitment of the department across all of the missions of an academic medical center is an incredible draw. I am excited about being in a college town, with all of the potential collaborative opportunities across the university, and, hopefully, being able to take in a few football games as well!
2. What will ensure our department's continued future success? What opportunities do you envision for further growth?
I've always been passionate about career development and mentorship, so a focus on training the next generation of leaders in research, education, and clinical care is a natural priority of mine. It's important for the department to be proactive, rather than reactive. 
With that goal in mind, I will be reaching out in the first half of the year to our faculty, staff and learners to collectively determine high-priority areas for future growth. This is not a "one and done activity," but an iterative process that evaluates the success of changes and ensures we are focusing on the endgame: improving the health and wellness of our department and the communities that we serve.   
3. What do you find most rewarding about your work? 
For me, one of the best rewards of being a leader is being able to derive job satisfaction from the success of others. There is a great term in Yiddish: to "kvell"—to burst with pride—that aptly describes that feeling. 
I first was attracted to pulmonary and critical care medicine because of the medical complexity of critically ill patients. Over the years, I find that I get the most satisfaction from helping families navigate difficult and emotionally distressing situations in the intensive care unit.
As a researcher, there is nothing more satisfying than an experiment that works, especially when you can repeat it!  As an educator, I love sparking curiosity and excitement amongst learners. All in all, having an impact, whether it is as a clinician, educator, researcher or leader, is what motivates me.
4. What are you most looking forward to about living in Madison?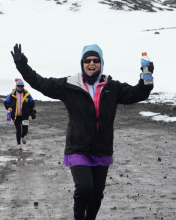 I think a big shopping spree is in my future, as I suspect my Charleston wardrobe will be woefully inadequate for Madison weather.   
As motivation to keep me running, I've registered for the Crazylegs Classic and the Madison mini-marathon. I'm looking for other runners to join me—the slower the better! The good news is I will be able to use some of my gear from the Antarctica Marathon (pictured) here!