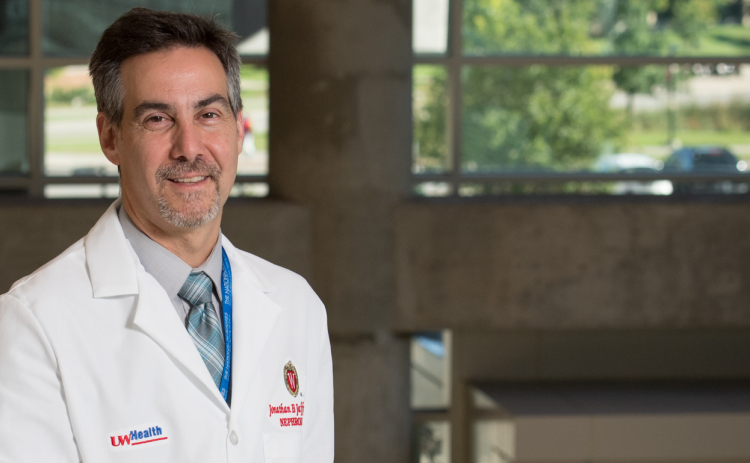 The Association of American Medical Colleges (AAMC) has named Jonathan Jaffery, MD, MS, MMM, professor, Nephrology, as its next chief health care officer, effective December 31, 2022.
The role of the chief health care officer is, as the AAMC press release notes, to work with "constituents from AAMC member institutions, federal agencies, and partnering organizations with a mission to enable teaching hospitals to provide access to high-value, high-quality patient care, sustain their academic missions, and remain financially stable."
A board-certified nephrologist whose clinical work centers on the treatment of chronic kidney disease, Dr. Jaffery joined the faculty at the University of Wisconsin School of Medicine and Public Health (UWSMPH) in 2002. 
"Throughout my career, I have cared for complex individuals and populations, working to reduce health disparities and implement innovative care models," he says.
In addition to being a professor in the Division of Nephrology, Dr. Jaffery currently serves as chief population health officer at UW Health and as president of the UW Health Accountable Care Organization. He is a commissioner on the Medicare Payment Advisory Commission (MedPAC), holds membership in numerous professional organizations including the American College of Physician Executives and American Society of Nephrology, and is a fellow of the American College of Physicians.
In the past, he served as the chief medical officer for the state of Wisconsin's Medicaid program. As a 2010–11 Robert Wood Johnson Foundation Health Policy Fellow, he worked with the United States Senate Committee on Finance on a variety of issues related to delivery-system and payment reform.
"Having spent the last decade leading the transformational efforts of an academic medical center that excels at the three traditional missions of education, research, and clinical care to a health system that provides access to high quality, affordable, and equitable care to all communities, I am excited to take on this role to advance the AAMC's missions of patient care and health equity." 
Dr. Jaffery received his medical degree from The Ohio State University College of Medicine and completed his residency and fellowship at The University of Vermont Medical Center. He earned graduate degrees from the UWSMPH and the University of Southern California Marshall School of Business. 
While his exact future association with the department and UWSMPH is yet to be determined, we look forward to Dr. Jaffery's accomplishments and leadership as the AAMC's chief health care officer!
Banner: Jonathan Jaffery, MD, MS, MMM. Credit: Clint Thayer/Department of Medicine.