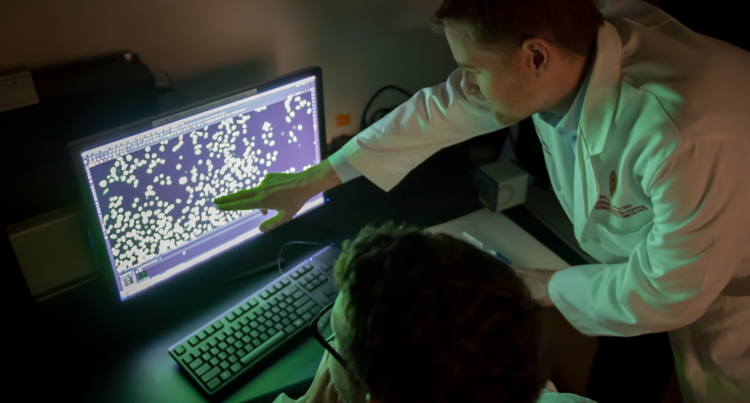 As of September 2022, the University of Wisconsin Department of Medicine's Physician-Scientist Training Program (PSTP) has a dedicated National Resident Matching Program (NRMP) match number.
Practically speaking, a dedicated number allows MD or MD/PhD graduates to apply directly into the PSTP program without having to go through the categorical match process. Symbolically, it indicates how serious the department is about building a world-class physician-scientist community.
Like most PSTPs, the department's program provides condensed clinical training in both internal medicine and the trainee's subspecialty of interest, followed by focused postdoctoral research training.
Unlike many PSTPs, however, it offers robust, continuous financial support. Each trainee receives a $21,000 stipend over six years, plus funding to attend national conferences and research meetings.
"Overall, this puts us in the top 10 PSTPs for funding in the United States," says program co-director Josh Lang, MD, MS, associate professor, Hematology, Medical Oncology, and Palliative Care.
The program also provides monthly didactic seminars and mock study sections. "It's very practical," says Michael Rockman, MD, PhD, who took a leap and joined the program this fall, after 7 years in the greater Philadelphia area earning his MD/PhD. "It's grant writing, it's how to write a biosketch—all the things you may understand theoretically, but have little experience with when it comes time to do them."
These trainings are more formalized at UW than at other institutions, Dr. Lang notes.
He attributes the strong funding and organization to leaders who understand the needs of physician-scientists—namely Lynn Schnapp, MD, department chair and George R. and Elaine Love Professor; Andy Coyle, MD, internal medicine residency program director; and the department's first-ever PSTP coordinator, Abigail Mapes, MA.
"I know the program has my back," Dr. Rockman agrees. "If something's doable and in my best interest, the program directors will help make it happen. That was a strong draw."
He was also drawn to UW-Madison by its cutting-edge research community. So too was Marina Sharifi, MD, PhD, who graduated from the PSTP last year and is now an assistant professor with the department's Division of Hematology, Medical Oncology, and Palliative Care.
"There's enormous expertise here," Dr. Sharifi says. "And when I was interviewing, I heard a lot about collaborations between widely different areas."
Indeed, she eventually joined Dr. Lang's lab and there developed connections and projects with faculty in the engineering and biomedical science departments. She continues those collaborations today—but now as head of her own lab.
"You want to go to a place where people are happy and productive. UW is one of the rare places you will find both together."
Banner: PSTP co-director Josh Lang, MD, MS, in his lab with recent program graduate David Kosoff, MD, assistant professor, Hematology, Medical Oncology, and Palliative Care. (Photo credit: Clint Thayer/Department of Medicine)