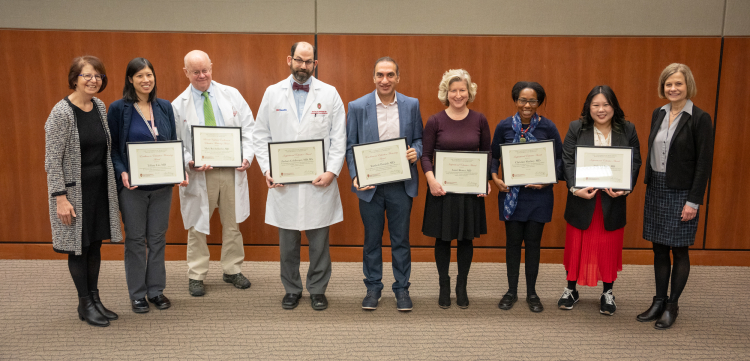 February 3, 2023 was the eighth annual Department of Medicine Education Day—an event that brings together faculty leaders, learners and staff to focus on the subject of advancing undergraduate and graduate medical education.
The day began with a Grand Rounds session titled Can We Educate Physicians to Be Trustworthy? It Depends from Adina Kalet, MD, MPH, Stephen and Shelagh Roell Endowed Chair at the Robert D. and Patricia E. Kern Institute for the Transformation of Medical Education, Medical College of Wisconsin.
Dr. Kalet was followed by the presentation of the Department of Medicine Education Awards, breakout sessions, and roundtable discussions over lunch.
Education Awards
The Excellence in Education Mentoring Award is given to two faculty mentors who exemplify extraordinary selflessness as they support and contribute to the education, career development and advancement of other clinician-educators:
The Dr. Bennett Vogelman Excellence in Education Mentoring Award recognizes a senior faculty member with a career-long devotion to mentoring that exemplifies the long-time former internal medicine residency director's dedication to educators:
This year, the Inspirational Educator Awards recognized four faculty who display unparalleled energy, passion and skill for educating students, residents and fellows:
Breakout Sessions
Vice Chair for Medical Education, Laura Zakowski, MD, professor, General Internal Medicine, counts Education Day as a tremendous success, saying, "[It] was filled with excellent conversation and community, starting with an outstanding Grand Rounds presentation and ending with small group discussions around important educational topics. A sincere thank you to the organizers of our Education Day whose commitment made the day enjoyable: Abi Rudzianis, Allison Ishizaki, Tara Loushine and Joe Orman."
Banner image: the 2023 award winners, left to right, between department chair Lynn Schnapp, MD (far left) and Laura Zakowski, MD (far right): Tiffany Lin, MD; Mark Reichelderfer, MD; Zachary Goldberger, MD, MS; Sandesh Parajuli, MD; Laurel Romer, MD; Christine Sharkey, MD; Andrea Schnell, MD.
All photo credit: Clint Thayer/Department of Medicine.