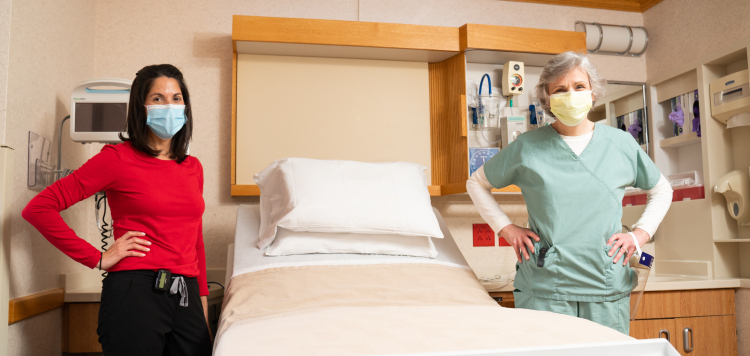 In 2001, UW Health endocrinology nurse Ruth Diaz de Leon, NP, began managing blood glucose levels for a handful of hospitalized patients with diabetes on the cardiology, vascular surgery, and cardiac surgery services at University Hospital.
She was the first clinician to staff the UW Health Diabetes Management Service (DMS), which celebrates its 20th anniversary this year.
Today, she's part of a team of six endocrinology advanced practice providers, plus endocrinology faculty and fellows, who see 50 to 70 patients every day all over the hospital.
They work closely with patients, families, primary and specialty care clinicians, dietitians, pharmacists, and Learning Center nurses to ensure that patients' glucose levels are controlled during hospitalization—and that patients are empowered to manage their own care after discharge.
It's a model of care that's been shown to prevent infections, promote healing, shorten hospital stays and improve overall outcomes.
Origins in Clinical Research
Marc Drezner, MD, then chief of the Division of Endocrinology, Diabetes and Metabolism, spearheaded the DMS in response to an influential publication in the New England Journal of Medicine on how glucose control reduces morbidity and mortality among critically ill patients.
Melissa Meredith, MD, then associate professor, Endocrinology, Diabetes and Metabolism, became the service's first medical director.
At the time, advanced practice providers (APPs) were just beginning to find their roles in the inpatient realm. Diaz de Leon, along with Gwen Klinkner, DNP, and Brenda Burke, MS, RD, was pivotal in building the service by providing expert consults, educating staff and trainees, serving as a liaison with other clinicians, and advocating for APPs.
"We started by asking, 'How can I help improve your patient outcomes?,'" Diaz de Leon recalled. "The service was mandatory at first, but now people ask for us."
A Vital, Collaborative Resource
In addition to providing direct patient care, the DMS also helped design and implement diabetes-related quality improvement projects, hospital policies and order sets.
Their work was instrumental in the Joint Commission naming UW Health a Diabetes Center of Excellence in 2014, a designation that's been maintained to the present day.
"As a result of Ruth's commitment to excellent patient care and ongoing patient and staff education, this pioneering service was able to grow to meet the needs of patients across the hospital, on all primary services, and to be seen as a vital, collaborative resource," said Megan Barry-Luglio, MPAS, PA-C, a colleague and former team supervisor.
Vanessa Rein, MD, clinical associate professor, Endocrinology, Diabetes and Metabolism, and current DMS medical director, concurs.
"I am so proud of how this APP-led service has evolved over the past two decades," she said. "We have an outstanding model of care, and I look forward to how we'll grow further and incorporate new technologies to meet the needs of even more complex patients with diabetes."
Banner photo, Vanessa Rein, MD, and Ruth Diaz de Leon, NP, at University Hospital. Credit: Clint Thayer/Department of Medicine