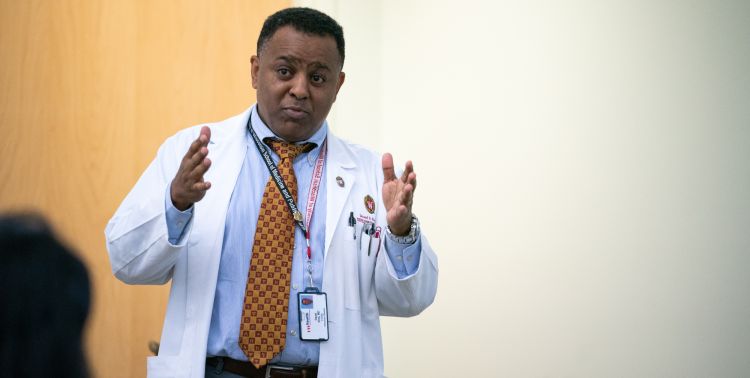 "There have been many times where I've felt othered or have felt self-conscious when I may be the only person that looks or acts differently in the room. I've worked hard to ensure that new generations of scientists that come work for us never feel that way." —Wajiha Akhtar, MPH, PhD
"I realize my experience in our healthcare system as a cisgender, heterosexual, White woman is not the same as every other patient and provider, and I think that needs to change." —Rachel Bielmeier, PA-C
"We are at a critical juncture in our country's history. If we get it right, it will be an opportunity to correct the injustices that were inflicted on a segment of our community for so long." —Dawd Siraj, MD, MPH
---
The discomfort of feeling "different," the recognition that not everyone has the same healthcare experiences, and the desire to correct long-standing injustices are more reasons Department of Medicine faculty staff joined our Diversity, Equity and Inclusion (DEI) Task Force.
Established in July 2020 and chaired by Narjust Duma, MD, assistant professor, Hematology, Medical Oncology and Palliative Care, the task force identifies DEI priorities and best practices, and will soon share recommendations to spur change department-wide.
Continuing a previous Vital Signs article, we offer more stories about why task force members chose to volunteer. In the next issue, we'll share the expertise they bring to the table.
Have questions or experiences you would like to discuss? Please reach out to Dr. Duma or any of the task force members directly.
In Their Own Words: DEI Task Force Members Volunteer Because…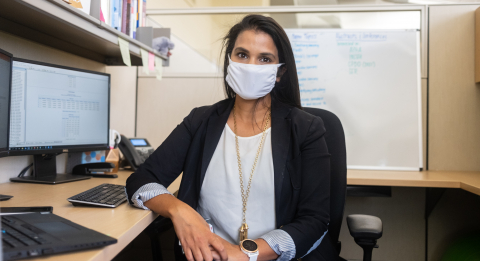 Above, Dr. Wajiha Akhtar working on research at her desk.
I've Felt Othered or Self-Conscious
Wajiha Akhtar, MPH, PhD, assistant scientist, Infectious Disease
"As a woman of color who has been part of this department for nearly three years, it's been a physically and emotionally isolating experience. There have been many times where I've felt othered or have felt self-conscious when I may be the only person that looks or acts differently in the room. I've worked hard to ensure that new generations of scientists that come work for us never feel that way. I want to take the opportunity to be able to do it department-wide."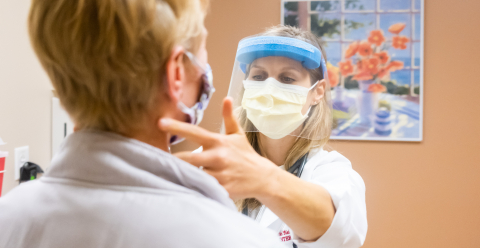 Above, Rachel Bielmeier in the clinic.
I Want to Help Make Our Organization a Place That Reflects All the Communities We Serve
Rachel Bielmeier, PA-C, General Internal Medicine
"When I applied to PA school, I focused on choosing a program in an urban area so that I could learn about and help treat underserved and underrepresented communities. On my first day of class in Chicago, I remember I walked into the room, and I was surprised to see that nearly everyone looked like me. Out of 30 classmates, 6 were men, and only four people were non-White. There were no Black students in my cohort and no Black faculty. I remember feeling disappointed. I had assumed that a program focusing on treating diverse patient populations would be diverse in its students and staff as well.
"I enjoyed my time in PA school, and my classmates were wonderful. Still, looking back, I realize now that during my interview process, I never questioned my program's commitment to diversity. I have never had to look around during a group interview, complete my clinical rotations, or be hired to work as a PA and realize that no one around looks like me or largely doesn't share my background. I realize my experience in our healthcare system as a cisgender, heterosexual, White woman is not the same as every other patient and provider, and I think that needs to change.
"I applied for this task force because I believe UW Health needs to take a more active role in addressing the racial and social healthcare disparities in our system. I want to help make our organization a place that more holistically reflects all the communities we serve and welcomes providers and patients from all backgrounds."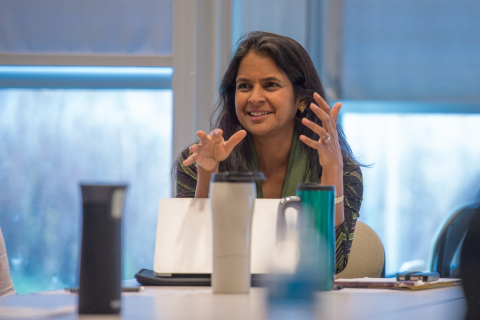 Above, Dr. Shobhina Chheda leading a discussion for the residency program's Primary Care Track.
We Must Borrow, Adapt, and Build on Existing Resources To Make Real Progress
Shobhina Chheda, MD, MPH, professor, General Internal Medicine; associate dean for medical education, UW School of Medicine and Public Health
"I fundamentally believe that it is only through inclusion that we can create an environment within the department that will allow us to achieve the necessary diversity and equity to reach our highest potential for all of our core missions. I want to make sure that we don't waste time in "re-inventing wheels" as related to DEI best practices, which may already exist within UW, UW SMPH, UW Health, or nationally. We must borrow, adapt, and build upon existing resources so that we are making real progress. Whenever possible, we need to be evidence-based. 
"As an Asian-American, daughter to immigrants from India, I look forward to openly and honestly sharing my lived experience within our department as helpful in lending a story to data and to facilitate lasting change."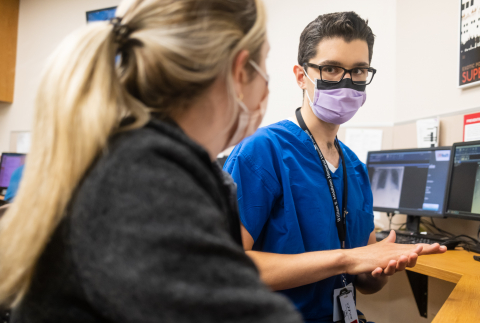 Above, Dr. Andrew Davis confers with a medical student in the resident work room.
I Want to Ensure That All Members of Our Department Feel Equally Welcomed and Supported
Andrew Davis, MD, second-year internal medicine resident
"The establishment of this task force is a crucial step in acknowledging that more can be done to further the diversity, equity, and inclusion of the Department of Medicine. Without focusing on these efforts internally, it will remain impossible to effectively care for a diverse and inclusive patient population. I believe that the internal medicine residency program needs to be a significant area of focus in this endeavor, as it serves as a major pipeline for a significant portion of our department's faculty and staff. I want to ensure that all members of our department feel equally welcomed and supported, regardless of their role and level of training."

Above, Dr. Lisa Jones with a patient in clinic.
There is Ample Opportunity to Shape Recruitment and Retention Policies
Lisa Jones, MD, MPH, MMCI, assistant professor, Gastroenterology and Hepatology
"Every institution should have a well-established strategy for the recruitment and retention of a diverse workforce. This strategy should mirror a critical mission to improve health disparities amongst minority and underserved populations. As UW looks to refine its core values where these issues are concerning, there remains ample opportunity to adopt more robust tactics and share current achievements and progress already being made on campus.
"As a relatively recent hire to UW and the only Black faculty member in my division, I would like to help shape policies that increase the pipeline of minority faculty members, improve the recruitment process and create a more inclusive community of faculty and staff."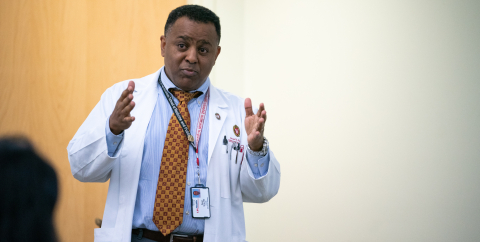 I Want to Promote Opportunity and Access  
Dawd Siraj, MD, MPH, professor, infectious disease
"Opportunity! It all comes to this. I am where I am because of the fortunate opportunities afforded to me at different steps of my life. As much as I appreciate merit and hard work, the opportunities, I believe, have been the determining factors for me to be who I am now. Recognizing this, I want to make sure that I use my hard-earned power and position for the good cause of promoting opportunity and access to African Americans and other minorities so they can also realize their dream.
"The COVID-19 pandemic has brought the shocking health inequity of our country to the surface. Data is showing that African Americans are dying from COVID-19 at higher rates than whites, even though they make up a smaller percentage of the population. The challenges of minorities come in different forms, coded as "risk factors." Why is that African Americans have high rates of hypertension, diabetes, obesity, chronic obstructive pulmonary disease, and other health conditions? More and more, we understand that the social inequities that have created a gulf of opportunities in every walk of life have so much to contribute to those differences than the genes we carry. The pandemic just highlighted the health inequities that have existed for so many years.
"We are at a critical juncture in our country's history. If we get it right, it will be an opportunity to correct the injustices that were inflicted on a segment of our community for so long.
"I want to highlight three critical issues of interest to me: increasing the diversity of our faculty, increasing the diversity of our trainees and our department's proximity to the African American community. I want to work on creating a bridge that allows our department to critically question and examine fundamental reasons for these disparities and work towards correcting them."
Banner photo: Dr. Dawd Siraj, pictured above delivering the residency program's inaugural health equity pathway lecture, is a member of the Department of Medicine's Diversity, Equity and Inclusion (DEI) task force. Credit: Clint Thayer/Department of Medicine